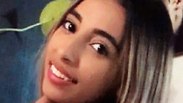 Yara Ayub, who was murdered in November
Two people were indicted Thursday in the November 2018 murder of 16-year-old Yara Ayub, whose body was found in a dumpster three days after she was killed in the northern village of Jish. The prosecution asked that the two, Mohammed Abu Zainab, 27, and an unnamed 17-year-old teen, be remanded in custody until the end of legal proceedings against them.
According to the indictment, on November 23, 2018, Abu Zainab gave Ayub hundreds of shekels "through lack of choice", after he apparently gave her money several times in the past. "A day later, he was angry about this arrangement and had decided to kill the girl. The defendants killed Ayub in a bakery run by Abu Zainab, stabbing her and slitting her throat," said the indictment.
Ayub's body was found in a dumpster by the bakery three days later.
All further trial proceedings will be held behind closed doors, since the other defendant is a minor.
Some of Ayub's relatives were arrested a day after the event, but were not charged over the murder. They were released after 30 days, but a final decision about their involvement is still pending.
Ahmed Abu Zainab, the defendant's brother, denied that his sibling had killed Ayub.
It's all lies," he said. "He would never have done such a thing, he would have never hurt anyone. Ask whoever you want about us, everyone will say our family is one of the best families. It's a shame that the police didn't get to the real killer, who is still free."
Falah Basel, the lawyer for Abu Zainab, said that "the defendants haven't confessed to the murder. There are plenty of things that the police are hiding because they failed in this investigation. I'll demand that the court reveal everything and not just partial information."
"We believe the minor has nothing to do with the murder," said attorney Adel Dabbah, who represents the unnamed minor. "There were several suspects in this case and some have been released. The full picture will soon be revealed and we will prove the minor had nothing to do with what he is charged with."
Ayub was last seen alive visiting the local bakery where she was allegedly murdered.
"She was on her way to her friend's birthday and stopped at the bakery to buy something, and then we lost contact with her," said her father, Nashat Ayub. She was missing for three days until her body was found in the dumpster by the bakery.