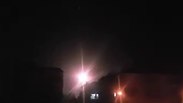 Syrian air defenses intercepted missiles reportedly fired by Israeli fighter jets on Friday night, according to state news agency SANA, causing damage but no casualties.

SANA reported that "over eight targets" exploded over the capital of Damascus, saying Syrian air defenses intercepted most of the Israeli missiles.

An ammunition warehouse at the Damascus airport was reportedly hit, but a Syrian Transport Ministry official said to SANA airport activity continues as normal.

Explosions over Damascus

"At 11:15 before midnight Israeli warplanes coming from Al-Jalil area launched many missiles towards Damascus area and our air defenses intercepted them and downed most of them," a Syrian military source said to SANA.

Syrian state media broadcast footage of what it said were the air defenses firing, with bright lights seen shooting across the night sky. Explosions were heard in one of the videos.

The Syrian Observatory for Human Rights reported that the attack targeted missile depots that belong to Hezbollah in the Al-Kiswah area as well as the Damascus airport.

Hezbollah's Al-Manar TV said the attack was broader than usual, targeting areas ranging from the eastern Damascus suburb of Dmeir to Al-Kiswah south of capital all the way to the village of Dimas in the west near the Lebanon border. It also said Israeli fighter jets were also operating in Lebanese airspace.

Israel has mounted attacks in Syria as part of its effort to counter the influence carved out there by Iran, which has supported President Bashar Assad in the war that erupted in 2011.

The last Israeli attack reported by Syrian state media was on December 25, when a missile attack wounded three Syrian soldiers. It was the most extensive airstrike since a Russian intelligence plane was accidentally shot down during an Israeli strike.

An Israeli official said the air force had attacked several Iranian targets in three main locations. He said the targets were primarily storage and logistics facilities used by Iran to ship weapons to Hezbollah.

Russia criticized Israel's "provocative" strike, saying it directly threatened two civilian flights. Russia's Ministry of Defense, which did not specify which flights had been threatened, added that Syrian air defenses had destroyed 14 of 16 Israeli missiles launched by six F-16 jets against unspecified targets near Damascus.

Lebanon's acting Transport Minister Youssef Fenianos confirmed Russia's account, saying the two airplanes in Lebanese airspace "narrowly" escaped Israeli warplanes, averting a "human catastrophe." Fenianos said Lebanon will present a complaint to the UN Security Council.

Russia said the Syrian military didn't fully engage its air defense assets to avoid accidentally hitting the passenger jets, adding that Syrian air traffic controllers redirected the Damascus-bound plane to a Russian air base in Syria's coastal province of Latakia.

An Israeli official said it was Syrian air defenses that endangered the civilian planes, by firing 30 missiles in response to the airstrike. He also said that Iranian forces are operating less than 80 kilometers (50 miles) from the Israeli border, contrary to Russian assurances.

A senior Israeli official said in September Israel had carried out more than 200 attacks against Iranian targets in Syria in the last two years.

Reuters and the Associated Press contributed to this report.