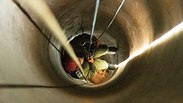 Hezbollah attack tunnels exposed by IDF
Photo: IDF Spokesperson's Unit
The IDF declared Sunday the completion of Operation Northern Shield after locating a sixth attack tunnel dug by the Hezbollah terror group from Lebanon into Israeli territory. The tunnel is expected to be neutralized in the coming days.

In early December, the IDF launched the operation to expose and neutralize terror tunnels Hezbollah has constructed along the Israel-Lebanon border since 2006, after years of intensive and careful planning.

The IDF said the latest tunnel is one of the most strategically important due to not only its location, but also in light of its size.

"The tunnel was 800 meters long on its Lebanese side and infiltrated dozens of meters into Israel. The tunnel is two meters high, one meter in diameter, and approximately 55 meters deep," said the military. "Its equipped with railway tracks, steps carved into the rock, as well as electric power and lighting system."

IDF exposes 6th Hezbollah tunnel

"All of the tunnels have been exposed and have either already been destroyed or are going to be destroyed," military spokesman Lieutenant-Colonel Jonathan Conricus told reporters."According to our assessments, there are no longer any tunnels crossing into Israel," he said, adding that Hezbollah retained some underground facilities on the Lebanese side.

"Operation Northern Shield deprived Hezbollah of the unique offensive abilities it had built over the years as part of its planned attack on Israeli territory," the army also said. "The operation reflected advanced operational and intelligence technological capabilities and multi-stage detection of underground areas, which have developed even more over the past few weeks."

The army said once the exposed tunnels have been neutralized, the IDF will begin the construction of the defensive barrier along the border.

"Until the neutralization process is completed, the IDF will continue its defensive efforts on the border … In addition, IDF troops and the underground detection laboratory will continue operating regularly along the Lebanese border," the army added.

Reuters contributed to this story.