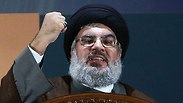 Hezbollah Secretary-General Hassan Nasrallah
Hezbollah Secretary-General Hassan Nasrallah hasn't been seen in public for over two months, and has been surprisingly quiet about Israel's mission to destroy his attack tunnels, leading many in the Middle East to wonder if something has actually happened to the terror group's leader.
During his last public speech on November 10, Nasrallah warned Israel that Hezbollah would attack the Jewish state "with all its might" if the IDF were to attack the Iran-backed organization, yet hasn't said a word since the Israeli military launched Operation Northern Shield, meant to locate and neutralize the terror tunnels constructed along the Israel-Lebanon border, over a month a half ago.
The 59-year-old Nasrallah also didn't comment on the Israeli strikes on Iranian and Hezbollah targets in Syria over the recent weeks, nor did he express his opinion on the planned withdrawal of US troops from the war-battered country.
Even amid an unrest on the domestic front, Nasrallah has remained silent. Hezbollah is currently locked in a political battle with Lebanese Prime Minister-designate Saad al-Hariri, who has been struggling to form a new government for over six months due to the Shi'ite organization's insistence for one of its lawmakers to get a cabinet position.
Over the weekend, Sweden-based Lebanese journalist Jerry Maher said that Nasrallah, who reportedly underwent cancer treatment back in 2013, was hospitalized in Beirut after allegedly suffering a heart attack. Maher, a long-time Hezbollah critic, is known for having close ties to Western intelligence agencies.
In the meantime, Iran's Al-Kalima news website, affiliated with the Iranian opposition leader Mir-Hossein Mousavi Khameneh—who has been under house arrest for the past 10 years—reported that Nasrallah has secretly flown to the Islamic Republic due to the flare-up of his alleged cancer. The news site added that following his spell in the hospital, "Nasrallah held diplomatic meetings with the top security and political ranks in Tehran." The site had to delete the report hours later, without providing a reason.
It is not clear whether Nasrallah is indeed ill, but if he was healthy, he would most certainly have come out publicly to mock all those spreading malicious rumors about him. So far, however, there hasn't been a single sighting of the 59-year-old and not a word about his condition on the Lebanese media, which only raises even more questions.