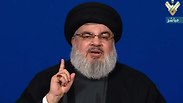 Hezbollah's Secretary-General Hassan Nasrallah
Photo: EPA
Hussein Abd al-Lahian, advisor to Iranian Parliament Speaker Ali Larijani, said Sunday that rumors about Hezbollah's Secretary-General Hassan Nasrallah's ill health are lies spread by Israel.

"The Zionists' claims that Nasrallah has suffered a heart attack are the new year's biggest lie," Larijani said on Twitter.

"The day on which Nasrallah and the Palestinian resistance pray in the Al-Aqsa mosque is near, and there is no escape from it," he said, referring to the mosque on the Temple Mount in Jerusalem.

Hezbollah's secretary-general has not been seen—not even for a televised speech — for more than two months.

Nevertheless, no senior official has so far addressed the rumors about his health.

In the past, Nasrallah has disappeared from the public eye for long periods of time with rumors circulating about his deteriorating health, and then reemerged and resumed his activities as before.

Denmark-based Lebanese journalist Jerry Maher, who is a fierce opponent of Iran and its proxy Hezbollah, is apparently the one responsible for the reports about Nasrallah's medical condition.

A very senior figure in the Hezbollah terror organization has been hospitalized in serious condition in Beirut, Maher said Friday on Twitter, citing an intelligence source.

In addition, Maher said Nasrallah has been fighting cancer for years.