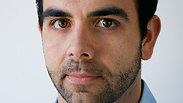 Omar Shakir
Photo: Human Rights Watch via AP
The state on Thursday its defended its decision expel the Israel and Palestine Director of Human Rights Watch, in response to his appeal against the move.

In light of the amendment made to the Entry into Israel Law, which prohibits the entrance of pro-boycott activists into Israel in March of last year, Strategic Affairs Minister Gilad Erdan advised Interior Minister Aryeh Deri to expel Omar Shakir, an American of Iraqi descent.

Erden issued his opinion on Shakir and his activities, even before he joined the Human Rights Watch organization. In May 2018, Deri informed Shakir that his visa had been revoked. In response, Shakir petitioned to the High Court of Justice.

The state initially asked for an extension due to the Supreme Court's ruling on the case of American student Lara Alqasem, who was granted entry into the country despite being accused of supporting the Boycott, Divestment, Sanctions (BDS) movement.

The State's response to the Jerusalem District Court stated that Shakir had been involved in promoting the boycott of Israel for years. Since joining Human Rights Watch, the appellant has continued to call for boycotts of Israel via his personal Twitter account. It was also claimed that Shakir intended to travel to Bahrain in order to promote boycotts against Israel at a FIFA World Cup meeting.

"Despite the fact that the Supreme Court has violated the legislation of the Knesset and the objectives of the legislator, and assumed the authorities of the state's executive branch; despite the mistaken ruling in the matter of Lara Alqasem, I will continue to fight against the entry of boycott activists in the country and prevent the subversion of the law. Shakir disguises himself as a human rights activist but most of his activity is dedicated to promoting boycotts against Israel and its residents. Those who act against the state should not enter its gates," Minister Erdan said in a statement.

"The organization does not support or oppose the BDS movement. We defend the right of individuals to act nonviolently to promote their views, including participation in boycotts. We also argue that businesses should cease to operate in Israeli settlements because such activities contribute to serious human rights violations. It is worrisome that a government ministry of a democratic state monitors the activities of a foreign citizen who lawfully resides in the country but criticizes its policy," the organization added.