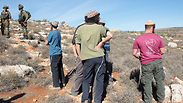 Jewish settlers in West Bank
Photo: Hillel Meir/TPS
The minor detained on suspicion of involvement in the death of Palestinian woman Aisha al-Rawbi is expected to be indicted with manslaughter, the State Prosecutor's Office said on Tuesday.

Al-Rawbi was killed after settlers reportedly hurled stones at a vehicle in which she and her husband were driving in the West Bank in October. Meanwhile, the Magistrate's Court in Rishon LeZion extended by six days the remand of the teen who was arrested two weeks ago.

His remand was extended at the request of the police and the Shin Bet domestic security service.

"As the probe into the death of Aisha al-Rawbi concluded, the investigation materials were transferred to the District Prosecutor's Office that has been working on this case from day one."

An indictment was filed Tuesday at the Magistrate's Court in Rishon LeZion against the minor for grave security offenses.

The youth was taken into custody on December 30, 2018, and his remand was extended three times since. The Honenu organization, which provides legal aid to Jewish terror suspects, claimed that the police had refused to transfer investigation materials to the minor's attorneys.

"By failing to forward the documents that are supposed to be reviewed by the defendant's defense team, the police have crossed every red line," the organization said.

The minor remained silent during questioning, however, the police and the Shin Bet say they have evidence tying him to the crime scene. A gag order has been placed on details of the investigation.

In response, the minor's father claimed the Shin Bet was setting his son up. "We have the strong feeling our son is being persecuted. During the time of the incident, my son, along with dozes of his friends, attended a Shabbat mea. However, the system is systematically ignoring his solid alibi."

Initially, the police arrested five teens on suspicion of committing grave terror offenses, including murder.

On Friday, four out of the five Israeli teenagers were released to a six-day house arrest, during which the suspects are not allowed to speak with each other.