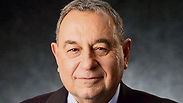 A former army comrade of Prime Minister Benjamin Netanyahu is dipping his toe into the political world, albeit at the other end of the spectrum.

Amos Danieli, 70, who fought alongside Netanyahu and even saved his life in a 1969 operation, established a new Arab-Jewish party named Lema'anenu (For Our Sakes)—and offers a very different vision to that of his former brother-in-arms.

"There is no left or right," says Danieli. "The aim is to influence from within the government (to improve) the circumstances of minorities in Israel and bring about an equal society that grants equal opportunities to all its citizens."

"It seems that the conditions are ripe for creating a strong society based on the values ​​of equality and social solidarity," says Danieli.

Danieli served in the elite commando unit Sayeret Matkal, alongside such IDF luminaries as Ehud Barak, Uzi Dayan, Yoni Netanyahu and his brother Benjamin.

In a ceremony that celebrated the 50 years anniversary of the unit, Netanyahu described the operation in which Danieli saved his life. "I almost drowned in the Suez Canal on our return from an operation during the War of Attrition. During battle, bullets whistled all around me and hit my dinghy, and I plunged into the water, carrying a heavy box of ammunition. My friends Doron Zalzberg and Amos Danieli grabbed me by the hand and prevented me from drowning."

The years—and politics—pushed the two friends apart. "Politics caused us to become distant," says Danieli. "He can't call anyone who doesn't agree with him a traitor."

Among members of the new party are Wallid Dia, a social worker from Tamra who set up a drug rehabilitation center for Jews and Arabs, and former head of the northern local council of Eilabun, Jaris Matar.