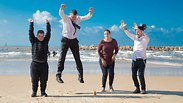 Ambassador Oryan with Mickey Hayat
Photo: Yehezkel Itkin
Israel's Ambassador to Macedonia Dan Oryan is taking his fondness for being photographed in mid-air in front of the world's most famous landmarks to benefit special needs youth.
Oryan recently joined a social project to incorporate youth with disabilities into his eccentric photoshoots, which will soon be displayed around the world in a special exhibition.
The project is a collaborative effort between Oryan and an ultra-Orthodox capoeira champion Mickey Hayat, who works with Haredi youth and young people with special needs.
"Capoeira changed my life, and now my life's mission is to help the ultra-Orthodox youth discover this amazing activity," says Hayat, adding that the collaboration with the ambassador "seemed absolutely natural" to him.
Oryan, who also runs the Balkan Department at the Foreign Ministry, was photographed jumping along with the young people at Israel's best-known tourists attractions, including the Western Wall in Jerusalem and the Azrieli Towers in Tel Aviv.
The project's photoshoot was produced in collaboration with social activist Ofra Cohen, who will handpick some of the images to be displayed at the "Jump Together" exhibition around the world, starting this weekend. "Together we create a society that sees the strengths of people with disabilities," says Cohen.
This is not the first time the ambassador has been involved in projects involving special needs youth. In March, he plans to fly a group of young people with disabilities to Macedonia to participate in a memorial ceremony for the Jews murdered in the country during the Holocaust.
Oryan also helped the SHEKEL organization—that works to improve the lives of people with disabilities—to produce a film in Macedonia, which had a special screening at the Knesset Culture Committee. As well as that, the ambassador flew two disabled food chefs to Macedonia to prepare authentic Israeli food especially for the Israel's 70th Independence Day celebrations.
"There is something about jumping in a suit and tie that breaks the ice. I love the idea of breaking conventions, and if I can put a smile on the faces of these young men and women by jumping around, then count me in," said the ambassador.