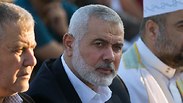 Hamas leader Ismail Haniyeh
Photo: AP
Hamas on Tuesday night released three Italian security guards held for two days at the UNESCO offices in the Gaza Strip on suspicion of being part of an IDF undercover force. The three were freed following intervention by the Italian ambassador to Israel.

The men, who were armed, entered the Strip to prepare for a visit of Italian Ambassador to Israel Gianluigi Benedetti on Wednesday.

The guards, who were driving a vehicle with diplomatic plates, refused to stop at a Hamas checkpoint inside Gaza. Hamas militants then opened fire at the vehicle and gave chase to the UNESCO offices in the Strip, where the Italians sought refuge.

Once the guards were inside, the Hamas men besieged the UNESCO offices. A team of Palestinian investigators then entered the building in order to question the men, whom Hamas suspected to be part of a special undercover IDF force.

Only after Benedetti had spoken with Hamas leader Ismail Haniyeh, confirming the men were Italian nationals, did the terror organization agree to release them.

In November, an IDF special forces mission in Gaza was discovered by the Palestinians. The subsequent exchange of fire led to the death of IDF Lt. Col. M. and another round of fighting between Israel and Hamas.