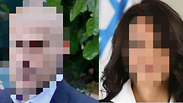 The Israel Police is investigating suspicions of ethical offenses, including sexual bribery, in connection with the appointments of judges, in a case almost entirely under gag order.

According to a police statement on Wednesday, the investigation was launched two weeks ago after they received information that aroused suspicions of wrongdoing in connection with the appointment of a female magistrate's court judge several years ago and with an unsuccessful attempt to appoint a male magistrate's court judge to the district court.

Detectives from the police's National Fraud Investigations Unit raided the offices of the Israel Bar Association on Wednesday morning. In light of the investigation, Bar Association head Effi Naveh is taking a leave of absence. Uri Keinan will serve as the acting chairman.

A male lawyer was arrested for questioning on Wednesday morning. Two other suspects—a female magistrate's court judge and a female lawyer—have already been questioned in the case. The police also summoned additional witnesses to testify, held other raids, and seized documents and digital materials.

After the case came to light, Supreme Court Chief Justice Esther Hayut sent a special letter to Israel's judges, saying she "believes in the strength of the judicial branch, in which serve hundreds of judges and senior registrars, who are dedicated and honest and do their jobs faithfully out of a sense of mission and commitment to their roles."

"Over the years, the judicial branch was required not once to deal with challenges that were not simple. This affair is another challenge with which we are required to deal these days, and I am confident we can do so," she wrote.

In a joint statement Hayut and Justice Minister Ayelet Shaked issued, they said they were "confident that the law enforcement system will exhaust the investigation of the case and uncover the truth."

"During Justice Minister Shaked's tenure as the chairman of the Judicial Selection Committee, the committee appointed 334 judges and senior registrars in a thorough and professional selection process," the statement said.

"We hope the investigation is completed as soon as possible to maintain the status of the judicial branch and the public's trust in it," they said.

Senior judicial officials estimated police might collect testimony from members of the Judicial Selection Committee, including Shaked, Hayut and Finance Minister Moshe Kahlon.

The police investigation is accompanied by the Central District Prosecutor's Office and is being supervised by the State Prosecutor's Office. A gag order was placed on most details of the investigation.

Attorney General Avichai Mandelblit recused himself from dealing with the case due to his friendship with the main suspect. Because of that, State Prosecutor Shai Nitzan personally authorized the arrests and questioning.