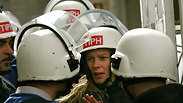 TIPH in West Bank
Photo: AP
The Temporary International Presence in Hebron (TIPH) "is deliberately creating friction to justify their salaries," the Judea and Samaria District Police said in a report.
The TIPH is a civilian observer mission in the West Bank that monitors the situation in the Palestinian city of Hebron.
"The members of the mission confront with Israel Defense Forces troops stationed at permanent checkpoints and disrupt standard inspection procedures of the Palestinian population going through the checkpoints," said the report, which was produced at the request of Public Security Minister Gilad Erdan.
Israeli settlers have been waging an ongoing struggle against the TIPH mission.
Erdan has requested Prime Minister Benjamin Netanyahu not to renew the agreement between Israel and the TIPH, which expires at the end of January.
"It is no wonder that a mission comprised of police officers from hostile countries—such as Turkey and other pro-Palestinian countries that promote boycott of Israel—causes disturbances to the IDF and the police. The government should halt the activity of the TIPH, which only harms Israel," Erdan said.