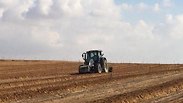 Gaza border communities' farmland
The Jewish National Fund, know in Hebrew as Keren Kayemeth LeYisrael, said it is freezing all of its projects constructing security infrastructure in the Israeli communities along the Gaza border, amid a dispute with the Finance Ministry.

Several months ago, the JNF announced its decision to invest NIS 100 million in security infrastructure in the Israeli communities near the Strip.

The JNF committed, inter alia, to paving escape routes for the communities near the southern Gaza Strip in light of the volatile situation there, as well as building 20 new housing units to help population growth in the area.

Preparations began in December to pave an escape route from Kibbutz Gevim in the Sha'ar HaNegev Regional Council, but work was halted last week. Infrastructure expansions in Kibbutz Sufa, Kibbutz Holit and Kibbutz Nahal Oz were also suspended.

Moreover, a project to rehabilitate farmland destroyed by the movement of IDF vehicles during recent rounds of fighting in Gaza was also halted, causing severe financial damage to the farmers in the area.

The decision to nix the projects sparked ire among regional council heads in the south.

"When relative quiet prevails, the communities must organize and prepare for possible escalation on the Gaza border. Disagreements between certain bodies are preventing our growth. This directly undermines the safety of the area's residents," said one of the regional council heads.

"Halting work on paving escape routes from Kibbutz Gevim is an endless tragedy. Halting security infrastructure works in the reality we live in is unheard of," the regional council heads wrote in a letter to JNF Chairman Danny Atar.

The head of the Merhavim Regional Council, Shai Hajaj, appealed to Prime Minister Benjamin Netanyahu, asking him to intervene.

The Finance Ministry said in a statement, "The ministry is in a dialogue with JNF officials in order to create a professional process that will give expression to the government's priorities concerning its joint projects with the JNF. We hope understandings could be reached soon."

The JNF said that, "in an unfortunate and unclear decision, the attorney general has recently decided to prevent government ministries from continuing their joint projects with the JNF. We sincerely hope this curious decision will soon be amended."

JNF-USA, which operates independently, still invests in the area.