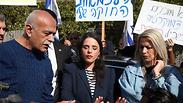 Justice Minister Ayelet Shaked clashes with members of the Druze community protesting against the Na
Yariv Katz
Justice Minister Ayelet Shaked over the weekend dimsissed members of the Druze community protesting against the Nation-State Law, telling them that the controversial law "is not going to be amended since it defines Israel as the national home of the Jewish people."

The contentious law defines Israel as the nation-state of the Jewish people as well as ends Arabic's status as an official language of Israel, leading critics to claim it is discriminatory against Israel's minorities.

Addressing the protesters who gathered outside her Tel Aviv home on Friday, Shaked said that legislation could be passed to enshrine the status of the Druze community in law.

"In order to mend the rift, we can definitely push for legislation defining the status of the Druze community," Shaked told the activists.

Shaked brushed off claims by several protesters accused that she was indifferent to their distress. "The fact I made an effort to meet with you on a Friday shows I care," she said.

Shaked also praised the deep connection between the Druze community and the Jewish state, stating that the law does not harm Israel's Druze citizens.

"When I enlisted in the IDF I had a lot of dreams, I thought I would amount to something but everything changed after I stepped on an explosive device and lost my legs while protecting you, the Knesset members who voted in favor of the Nation-State Law, and all of Israel's citizens," a disabled Druze IDF veteran told Shaked.

"Look me in the eye and tell me how you could raise your hand to vote in favor of the law without thinking of me," he said.

"We were trying to appeal to her heart, but when there is no heart nothing will happen," some activists said before abruptly ending the discussion.

Brig. Gen. (res.) Amal As'ad, a leader of the Druze protests against the law, criticized the justice minister for putting politics before people. "Shaked's fear of elections is disappointing," he said.

Before meeting with Shaked, members of the Druze community and activists opposing the law met with a series of political leaders, including Labor Chairman Avi Gabbay, former IDF chief of staff and the leader of the Israel Resilience Party Benny Gantz, Yesh Atid Chairman Yair Lapid, and Orly Levy-Abekasis who heads the newly established Gesher party, to discuss ways to amend the law.