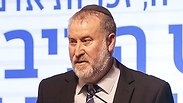 Attorney General Avidhai Mandelblit
Photo: Elad Gershgoren
Lawyers for Prime Minister Benjamin Netanyahu meet with Attorney General Avidhai Mandelblit in Jerusalem, in an effort to persuade him not to announce a hearing for the prime minister before the Knesset elections in April.

The prime minister, who is accused of corruption in three separate investigations, maintains that holding a hearing before the elections would have a detrimental impact on his electoral prospects.

Netanyahu's lawyers—Navot Tel-Zur, Amit Hadad, Oded Mudrik, Tal Shapira and retired judge Yossi Alon—met with Mandelblit at the Justice Ministry in Jerusalem for nearly three hours.

The Justice Ministry says Netanyahu's attorneys "presented at length their claims regarding the date of publication of the attorney general's decision regarding the investigations involving the prime minister, and their arguments will be considered in the usual manner."

The attorney general is expected to formulate his position in the coming days, and will be handed to the defense attorneys in a timely manner.

The main argument Netanyahu's lawyers used was that since this is an interim decision—holding a hearing before a possible indictment—which could change following the hearing, the attorney general ought to wait with it, and there was no use in rushing the process.

According to the prime minister's legal team, this interim decision would influence the results of the elections, as Netanyahu would not have the chance to respond and present his own position concerning the evidence collected by the prosecution. This, they say, could mislead the voter, who will only hear one side of the argument.

The lawyers argue that the attorney general is not obligated to include the public in his decision at this stage.

Netanyahu is suspected of wrongdoing in three separate cases: Case 1000 concerns allegations that the prime minister and his family received illicit gifts from wealthy donors, most notably billionaire film producer Arnon Milchan. Case 2000 concerns allegations that Netanyahu held talks with Yedioth Ahronoth publisher and owner Arnon Mozes about favorable coverage in return for legislation that would weaken Yedioth's rival, free daily Israel Hayom. Case 4000 concerns an alleged quid pro quo relationship between Netanyahu and investor Shaul Elovitch, who was the majority shareholder of Bezeq telecommunications and owner of the Walla! News site; Elovitch allegedly ensured Netanyahu and his family received favorable coverage on Walla! News in return for regulatory benefits for Bezeq, which sought to merge with satellite company Yes.

Mandelblit has reportedly finished the deliberations on two of the cases and is expected to soon announce his decision to indict Netanyahu for bribery in Case 4000 pending a hearing. According to Channel 12, the attorney general intends to indict Netanyahu in Case 1000 as well, for fraud and breach of trust. A decision has not yet been made on Case 2000 due to disagreements within Mandelblit's team.