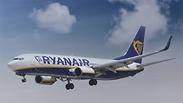 Ryanair
Photo: Danny Sadeh
The CEO of the Irish low-cost airline Ryanair, Michael O'Leary, plans to expand the company's operations in Israel, which he believes is one of the most promising tourism destinations, according to Channel 13 report Tuesday. The move would allow Israelis and tourists from abroad to "enjoy the company's low prices," and would offer flights from Israel to some "200 new airports and destinations."
O'Leary arrived in Israel on Tuesday for a brief visit during which he met with the representatives from the Ministry of Tourism and the Israel Airports Authority. "We can bring millions more to Israel, we will grow as fast as the authorities allow us to," O'Leary said to Channel 13 news upon his arrival.
During the meeting O'Leary expressed an interest in having Ryanair operate flights within Israel, which so far has only been handled by domestic airlines.
O'Leary has been nicknamed "Big-mouth" for his sometimes confrontational business methods and outlandish ideas, which he says will change the world of aviation.
The 57-year-old CEO also met with Tourism Minister Yariv Levin, telling him that Israel could turn into a trendy tourism destination with his company's help. "I feel that there is potential for a significant growth in Israeli tourism," O'Leary said. "I feel that Israel is one of the most refreshing destinations … people are fed up with placed like the Caribbean. Israel has wonderful beaches and good cuisine."
Ryanair recently announced that its launching flights from Tel Aviv to three brand new routes—Athens, Thessaloniki and Sofia. In total, during the upcoming summer the airline is expected to operate some 28 weekly flights to Israel from 12 different destinations.
Over the past year, some 600,00 Israeli passengers traveled between Israel and Europe using the airline's services, with 517,000 travelling from European destinations to Ben Gurion Airport in Tel Aviv. This number represents a 200% increase from the previous year.