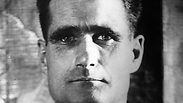 Nazi war criminal Rudolf Hess
Photo: Getty Images
After years of wild conspiracy theories, Austrian scientists have proven that Nazi war criminal Rudolf Hess indeed died in prison in Berlin—and was not a replaced with a doppelganger as conspiracy theorists have suggested.

Hess, Hitler's Deputy Führer between 1933-1941, was caught after he went to Scotland in 1941 on his own accord, reportedly to negotiate a peace treaty between the UK and Germany. During the Nuremberg trials held after the war was over, Hess was sentenced to life in prison.

Hess was imprisoned in several UK prisons—among which the Tower of London. In 1947 he was transferred to Berlin's Spandau Prison, where he remained until 1987—when he hanged himself in his cell.

Hess, who died at 93, was known as Spandau #7. He was the last prisoner in Spandau, and the prison was torn down after he died.

For decades, conspiracy theories raged, saying Hess was killed by the British after he was caught in Scotland, and that a doppelganger was put in his place. According to theories, Spandau #7 looked nothing like "the original" Hess, and also avoided meeting the Hess family until 1969—arising suspicion.

One of the people who believed the rumours was Hess' Spandau doctor Hugh Thomas, who pointed to doubts about his Scotland ordeal, his refusal to see relatives and his "claimed amnesia."

Now, an unnamed descendant of Hess who agreed to have his DNA compared to a sample taken from Spandau #7 in 1982, allowed researchers to discover the truth.

"No match would have supported the impostor theory, but finally we do have a match," said Prof. Jan Cemper-Kiesslich of the University of Salzburg, who was part of the research team.

Results were conclusive: the two DNA samples came from two individuals who had a 99.9% chance of being related. After years of doubt it can be said for certain that Rudolf Hess, the former high-ranking Nazi, hanged himself in his cell in 1987.