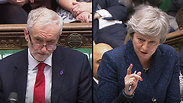 Corbyn and May in the House of Commons
Photo: MCT
British Prime Minister Theresa May slammed Labour Party leader Jeremy Corbyn on Wednesday, wondering why he was willing to meet with the Hamas and Hezbollah terror groups but was not willing to meet with her to discuss Brexit.

"He has been willing to sit down with Hamas, Hezbollah and the IRA without preconditions, but he will not meet with me to talk about Brexit," May said during a discussion in the House of Commons.

Corbyn, the head of the opposition in the British Parliament, said he had "reached out" to May in September to discuss Labour's plans with her, but "It appears that, while the door to her office may well be open, the minds inside it are completely closed. She has shown no flexibility whatsoever on taking no-deal off the table."

British PM Theresa May speaking in the House of Commons

Throughout the crisis over Britain's departure from the European Union—also known as Brexit—Corbyn has refused to meet with May until she commits to not withdrawing Britain from the EU without a deal.

May launched a mission to resuscitate her rejected European Union divorce deal, setting out plans to get it approved by Parliament after securing changes from the EU to a contentious Irish border measure.

Outlining what she plans to do after her EU divorce deal was rejected by Parliament last week, May said that she had heeded lawmakers' concerns over an insurance policy known as the "backstop" that is intended to guarantee there are no customs checks along the border between EU member Ireland and the UK's Northern Ireland after Brexit.

The European bloc, however, insists that it won't renegotiate the withdrawal agreement.

While May stuck doggedly to her deal, she also acknowledged that control over Brexit wasn't entirely in her hands. She noted that lawmakers will be able to amend her plan when it comes to a vote in the House of Commons on Jan. 29, exactly two months before Britain is due to leave the EU.

The Associated Press contributed to this story.