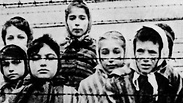 Survivors in Auschwitz in 1945
Photo: AP
On Holocaust Remembrance Day, Israeli survivors number just 212,000
As the world remembers on the anniversary of the liberation of Auschwitz death camp, Israel says its number of living survivors is dwindling, and the majority are over the age of 80; by 2025, just 102,000 will still be alive, and all will be aged 85 or above.
Some 212,000 Holocaust survivors were living in Israel at the end of 2018, according to a report published by the Israel Central Bureau of Statistics ahead of International Holocaust Remembrance Day on Sunday. This is a fall of some 9,000 from the year before, when there were 221,000 Holocaust survivors living in the Jewish state.
By the year 2025, some 102,000 are expected to still be alive—half of the number of survivors living today — and all will be ahed 85 or older. By 2030, only a quarter of the current number of Holocaust survivors—some 53,000—will still be alive. All will be over 90 years old.
The report is based on data collected by the Holocaust Survivors' Rights Authority at the Ministry of Finance, and predictions were calculated while taking into account changes in life span expected in the next two decades.
At the end of 2017, the median age of men who survived the Holocaust was 81.6 years, while the median age for women was 82.4 years. Twenty-nine percent of survivors are now older than age 85, and 3% are 95 years old or over.
Women make up 60% of Holocaust survivors in the country. The percentage of women is higher than that of men in all age categories among survivors, and the percentage rises in every age group. Women make up 58% of survivors aged 72-84, and 63% after the age of 85.
Some 65% of survivors living in Israel are European-born— of which 36% were born in the former Soviet Union. Some 12% were born in Romania, and 6% in Poland.
Survivors from North Africa and Iraq make up the other 35%, of which 16% were born in Morocco, and 2% in Algeria, and suffered persecution under France's Vichy rule. Ten percent are Iraqi-born and experienced the Farhud— an attack on Iraqi Jews that took place in June 1941, costing at least 197 lives and wounding 2,118. Some 242 children were orphaned in the Farhud, and 50,000 Jewish homes and businesses were looted.
Some 38% of Holocaust survivors arrived in Israel until 1951, most immediately after Israel was founded in 1948. Between 1952-1989, some 29% of Holocaust survivors currently living in Israel arrived in the country. The rest arrived in the 1990s after the former Soviet Union collapsed.
In survivors from German and Austrian Jewish communities, 65% arrived in Israel before 1948. The majority of survivors born in Poland, Bulgaria, Hungary, Iraq and Libya came to Israel during the first big immigration wave between 1948-1951.
The majority of Tunisian and Moroccan born survivors immigrated to Israel during the 1950's and 1960's, and the majority of former Soviet Union born Holocaust survivors arrived after 1991.
The Holocaust Survivors' Rights Authority is a state-operated authority the provides allowances for survivors who were sent to death camps, ghettos or went into hiding. Survivors with disabilities also receive stipends.
The authority acknowledges people as survivors if they lived in any of the countries conquered or under direct effect of Nazi Germany, between 1933-1945, and refugees who had to flee their home because of Nazi persecution.