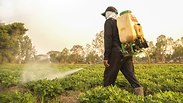 Pesticide use in Israel one of the highest in the world
Photo: Shutterstock
Lately I've been walking around my home like the witch from Snow White and the Seven Dwarves, offering everyone in our household some fruit and vegetables. Are you hungry, sweetie? I'll fix you up a salad with some fresh squeezed pesticides and get you a poisoned apple. My family has taught us from infancy the importance of enriching a diet with a variety of fruits and vegetables. I passed on this tradition. I, with my own hands, placed on my children's plates plenty of food generously sprinkled with harmful substances. I can't describe the turmoil I've experienced after hearing about a wave of investigations that recently revealed a sad truth about the local agriculture.

According to a report in the Menta magazine, the use of pesticides and insecticides in Israeli agriculture is among the highest in the world. Israel also has the highest non-Hodgkin lymphoma—a group of blood cancers—rates in the world, with the second highest mortality rate for the disease. These revelations coincide with the International Agency for Research on Cancer (IARC) report that suggests a connection between specific pesticides and certain types of cancer. In the meantime, the Ministry of Health revealed the results of biological monitoring, showing that 15% of Israeli children had pesticide residue in their food, the doses of which were much higher than recommended.

In addition, Israel Union for Environmental Defense, this week published a comprehensive report, explaining the negative effects of overindulgent pesticide use on children. The report concludes that pesticides accumulate in our bodies, making us vulnerable to various rare and serious diseases. According to the report, Israel has the highest rates of pesticide residue in comparison to Europe and the United States.

The Ministry of Agriculture, Health and Environmental Protection have all co-signed on this total lack of oversight. Minister of Agriculture Uri Ariel—who is in charge of the body responsible for plant protection products—should be held accountable for failing to protect our families from ingesting these extremely high levels of toxins. Ariel is also indifferent to the absurd double standard requiring farmers, who cultivate agricultural produce meant for export, to report the percentage of pesticide residues found in their crops, while produce meant for the local market is not subjected to similar inspections.

The Israelis are the champions of fruit and vegetable consumption. The disproportionate use of pesticides, however, turns supposedly healthy eating habits into a toxin-filled diet. The most contaminated fruits and vegetables are: apples, leafy vegetables, wheat, barley, strawberries and grapes. Basically everything that was supposed to help us raise healthy and happy kids. So, what is there left to eat? Chocolate! And well done to my neighbor who neglects her children and feeds them junk food, because at least her kids, who have probably never touched an orange, don't grow trojan horses in their bodies.

As a result, our family has decided to take on an organic challenge diet. Once a week, a basket of vegetables, from one of the organic farms that thrive in moshavim, arrives at our doorstep. The problem is that it's a little pretentious, five times more expensive than regular vegetables (which an average family in Israel cannot afford), and no one actually promises that organic pesticides are not the same kind of ticking bomb as regular ones, just a little greener.

In August of last year, the US court ruled that a Californian gardener who claims to have contracted cancer due to exposure to pesticides and insecticides must be compensated with $289 million in damages. In Israel, we must demonstrate and demand that the government promotes a national plan to reduce pesticide use. Anything less must prompt every Israeli citizen to take to the streets.