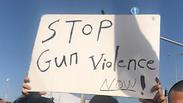 Umm al-Fahm residents protest against murders in Arab sector
Six people have been murdered in the Arab sector since the beginning of 2019, but the police have only made one arrest so far.

The first murder this month took place on January 13 in Umm al-Fahm. Saher Khaled Mahmud, 20, was riding his motorcycle on his way home and was shot dead in what is believed to be a case of mistaken identity.

"He didn't do anything and was murdered in cold blood," said a relative. "We're all in danger."

Following the murder, hundreds of Umm al-Fahm residents blocked route 65 to protest the violence and rampant crime.

The second case was two days later—a double homicide in the city of Tira in central Israel. Uday Abdelhai, 28, and Ashraf Fadili, 42, were shot to death.

"Our son was shot because he was in the wrong place," said a relative of Abdelhai. "We're not looking for revenge, just for the police to do their job."

Last week, Bedouin man Nassir Aluledi, 50, was found dead near route 40 in the Negev. Police arrested his brother, who is suspected of running over Nassir with his car. The brother denies the allegations against him.

"The deceased was a good man. I hope (the police) reach the truth and the murderer is punished," said a resident of the area.

The latest two murders happened on Monday night, within an hour of each other. Ramzi Hamad, 23, was shot dead at close range near his home in Jaffa. The perpetrator, who was waiting for Hamad to come out, was able to flee the scene.

Ramzi is the eighth member of his extended family to be murdered as part of an ongoing dispute between clans in Jaffa, which police are aware of.

"He wasn't looking for trouble and had good ties with everyone," said a relative. "Unfortunately there are people who want to murder and destroy families."

Meanwhile, Nazareth resident Hassib Mussa, 60, was shot dead in Kiryat Tivon in northern Israel. The motive for the murder is believed to be criminal.

"Arab citizens' sense of personal security is radically decreasing, to the point that many residents fear to leave their homes in the evening hours, afraid they will be hit by errant or intentional fire," said Joint List MK Yousef Jabareen. "It feels like we are on the verge of a civil war."

"According to data from the Public Security Ministry, out of 520 shootings in Umm al-Fahm over the past three years, only six indictments have been filed—an outrageous rate of one percent," Jabareen said.

"Most of the shootings and crimes don't get solved. This shows law enforcement authorities' helplessness," he said. "These grave numbers only serve to bolster criminals' working assumption that they can continue acting as they see fit, terrorizing and denying residents of their basic rights for security and property, without worrying about law enforcement."

"As long as the police don't prove otherwise, I hold them responsible for not acting to eradicate the violence, due to outrageous reasons of 'divide and conquer,'" the MK said.

On Tuesday afternoon, Public Security Minister Gilad Erdan inaugurated a new police station in Kafr Qasim, where he was met with protesters. "They may be loud and make a lot of noise, but they're only a loud minority, who is unfortunately also to blame for the fact security in Arab municipalities is insufficient," Erdan said.

He also noted that "the policies of Israeli governments throughout history also bear responsibility."

Erdan is a member of the Likud Party, which has been in power since 2009. He has been the public security minister since 2015.

"The Israeli government has said 'enough' to a situation in which normative Arab citizens—who are the majority—are getting hurt. They too deserve the same level of security. We started building police stations inside the municipalities... only this will bring more law and order. Kfar Saba and Kafr Qasim must have the same police presence," he said.

The new police stations being opened in Arab municipalities "are part of an extensive, well-budgeted plan meant to close the gaps created when Israel was first established—a lack of vital police services for the Arab public."