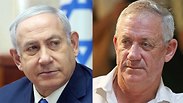 Netanyahu and Gantz
Photo: Alex Kolomoisky, Mark Israel Salem
Former IDF chief and political newcomer Benny Gantz got a boost in the polls two days after giving his first political speech and joining forces with another former IDF commander, Moshe Ya'alon. Gantz is now on par with Prime Minister Benjamin Netanyahu, who has so far been poised to win the premiership in the April 9 vote.

When asked who is the most suitable candidate to be prime minister, a poll by Reshet Channel 13 News puts Gantz and Netanyahu at 42 percent each. A poll conducted by Keshet Channel 12 News puts Netanyahu slightly ahead, with 36% compared to Gantz's 35%, while a poll done by the Israel Public Broadcasting Corporation (IPBC) shows a bigger gap, with the prime minister getting 47% compared to Gantz's 41%.

Gantz's Israel Resilience Party went up in the polls as well, and it is now trailing Netanyahu's Likud Party by a single-digit number of seats, with one poll predicting a six-seat difference and two others putting the two parties eight or nine seats apart.

If the elections were held today, both Channel 12 and Channel 13 predict that the ruling Likud Party will once again receive 30 of the Knesset's 120 seats, compared to the Israel Resilience Party's 21 seats (Channel 12) or 24 seats (Channel 13). The IPBC poll sees Gantz's party receive 23 seats, while Netanyahu's party is set to climb to 31 seats.

The Zionist Union, a joint party made up of the Labor Party and Tzipi Livni's Hatnua Party, is set to crash in the coming elections after Labor leader Avi Gabbay decided to end the partnership. Together, the Zionist Union list was the second largest in the Knesset, with 24 seats. Apart, the Labor Party will receive six (Channel 12 and Channel 13) to eight (IPBC) seats, while Hatnua won't pass the election threshold, which currently stands at 3.23 percent (about four seats).

The Joint List, which was made up of three Arab parties and was the third biggest faction in the Knesset with 13 seats, also broke apart ahead of the coming elections when Ahmad Tibi decided to leave the partnership with his Ta'al Party. The new Joint List, which now only includes Balad and Hadash, is predicted six seats in all three polls. Channel 12 and the IPBC give Ta'al only six seats, while the Channel 13 gives it eight.

Yair Lapid's Yesh Atid Party is expected to maintain its 11 Knesset seats according to the Channel 12 poll, or drop to nine seats according to Channel 13 and the IPBC.

Finance Minister Moshe Kahlon's Kulanu is also expected to lose power in the coming elections. Channel 12 sees the party losing half of its 10 seats, while the IPBC poll predicts the party will drop to four seats, and Channel 13's poll indicates Kahlon's party won't even pass the election threshold.

Naftali Bennett and Ayelet Shaked broke away from their Jewish Home Party, which had eight seats in the outgoing Knesset, to form the New Right Party. The IPBC predicts their new party will receive eight seats as well, while Channel 12 sees them dropping to seven and Channel 13 to six. Jewish Home itself is left with four seats, according to all three polls.

The ultra-Orthodox parties Shas and United Torah Judaism, which together hold 13 Knesset seats, appear to be losing in power in the polls. Shas, which had seven seats in the outgoing Knesset, drops to four (IPBC) or five (Channel 12 and Channel 13) seats, while United Torah Judaism either retains its six seats (Channel 13 and the IPBC polls) or gains one seat (Channel 12). In total, the Haredi parties are predicted to lose up to three seats.

MK Orly Levy-Abekasis, who formed the Gesher Party after leaving former defense minister Avigdor Lieberman's Yisrael Beytenu Party, is predicted four seats by Channel 12 and Channel 13.

Lieberman's party, meanwhile, which was left with five seats after Levy-Abekasis's departure, is not expected to do any better in the upcoming elections, with polls showing it getting four (Channel 12 and Channel 13) to five (IPBC) seats.