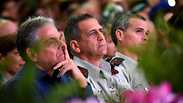 IDF Chief of Staff Maj. Gen. Aviv Kochavi attends the ceremony marking the 22nd anniversary of the h
Israel Defense Forces Chief of Staff Lt. Gen. Aviv Kochavi said Wednesday that the military was prepared to fend off the Iran-backed Lebanese terror organization Hezbollah, which "violates the rules of warfare and scorns human values, while seeking to invade Israel's territory."

"Only several dozens of kilometers from here, beyond our northern border, there is a terror organization that is set to harm Israel and its resilience, an organization that strives to use precision-guided weapons against us and aims to invade our territory and launch rockets and missiles at Israeli civilians, all the while blatantly violating international agreements and the rules of warfare," Kochavi said.

"The IDF will continue acting against the entrenchment of Iran and its proxy Hezbollah on the northern frontier, and continue thwarting terror attacks in the West Bank, the Gaza Strip and the Sinai Peninsula," he said.

He was speaking at a ceremony to mark the 22nd anniversary of the 1997 helicopter disaster, in which 73 soldiers were killed after two transport helicopters collided in midair. It was one of the deadliest accidents in IDF history and expedited Israel's withdrawal from southern Lebanon in 2000.

The IDF chief said that in his new role, he feels even greater responsibility towards Israel's fallen soldiers and bereaved families. "The commitment to you and to the fallen soldiers intensifies. A ceremony of this sort reminds me and all IDF commanders of the great care and professionalism with which the army must plan its missions. With what precision and sensitivity we must also act when those missions are carried out," Kochavi said.