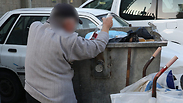 Homeless people go through garbage in search of food recyclable waste
Photo: Shaul Golan
It's easy to compare poverty to a tsunami: a monstrous wave that strikes without warning, a widespread phenomenon that leaves you helpless and without the ability to fight back. It can hit us all, and those in its way have three options: hiding, climbing to higher ground, or staying put and hoping the wave doesn't get you. In handling poverty in Israel, we use all three options, and they have not improved anything in in the current dismal situation.

First of all, we hide behind data, statistics and reports just so we don't have to feel anything or see the painful truth: the poor are people like you and me, they aren't numbers and graphs. They're fathers, mothers, grandparents, friends and neighbors. They inhabit an entire world, just like the rest us, and shame on whoever makes them into a mere number.

The second alternative is to remain in place, hoping the tidal wave doesn't sweep us along. This is a famous middle class tactic. We fool ourselves into thinking that poverty won't touch us, that it's a remote problem and that those who ended up poor did so through their own actions. The absurd thing is, in a country where citizens live by the mantra that "things will sort themselves out somehow," all you have to do to end up poor is fall ill or lose your job. Almost any "regular" family is three unpaid pay checks or a bout of illness away from slipping below the poverty line.

Finally, our elected representatives flee to their ivory towers to save themselves. They make excuses for overlooking poverty in their state budgets, for pushing aside for more urgent matters and security issues, but the war on poverty is one we have no choice but to fight, and it is as urgent as the war with our enemies. It's a fight for Israeli society and its strength.

As elections near, we must not forget the weaker sectors. Our public servants can't let this poverty tsunami drown us. They have to support all of Israeli society, and stop dealing only with the short-term. Some 1.8 million people live under the poverty line in Israel, and there isn't one governmental plan to deal with the problem — neither in the near future nor the distant future. Not one government department sees eliminating poverty as its main goal, or devotes long-term processes to deal with the issue.

The problem of poverty won't have a photogenic solution, the kind that makes headlines. There's no ribbon to cut, and no one will stand clapping when a minister finishes his term having eradicated poverty. But in the current situation, any leader with a little empathy and humanity can bring the longed-for change. The person who sees that hiding, climbing to higher ground or standing in place aren't solutions to the problem, and comes up with a new path to walk, will be the one who makes real news in Israel.

No one will have the luxury of being surprised when the poverty tsunami finally hits us, mercilessly. The earthquake has already happened, and it's only a matter of time before years of ignoring the margins of society leads to an enraged backlash that will sweep through our streets with no prior notice. So when we go to vote this year, we should try to identify the candidate that could prevent this looming disaster.

The author is the CEO of Pitchon Lev, a non-profit organization that fights hunger and poverty in Israel.