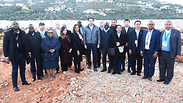 Dozens of United Nations ambassadors toured a site near Metula where the IDF discovered a Hezbollah terror tunnel during Operation Northern Shield. Engineering troops gave the diplomats a tour of the tunnel using a robotic camera.

The tour was organized by Israeli Ambassador to the UN Danny Dannon. The diplomats met with President Reuven Rivlin and Prime Minister Benjamin Netanyahu in the morning before flying, with seven helicopters, from Jerusalem to the north of the country. During their meeting, Netanyahu stressed the Iranian chokehold on Lebanon via Hezbollah.

"Iran has many branches, one of them is Hezbollah, which has now joined the Lebanese government. This is a misleading description — Hezbollah actually controls the Lebanese government and this means that Iran controls the Lebanese government," Netanyahu said. "It is important to convey this powerful message — just as we prevented the terror tunnels from reaching Israel, we will thwart any aggression from Lebanon, Syria or Iran itself ... We are committed to preventing this aggression and thus we are protecting not only Israel but also our neighbors and the peace of the entire world."

Danny Dannon briefed the group on the tunnels discovered by the IDF. He stressed that they entered under Israeli territory and that all operations were conducted in Israel and did not cross into Lebanon. He also stressed the high cost of their construction and the Iranian funding for them.

"The ambassadors hear a lot about our border with Lebanon and Hezbollah, but when you come here and see the tunnel, you cannot argue with the facts. The Iranian money reaches our border and threatens the citizens of Israel ... We say clearly that Hezbollah has established its own state in south Lebanon, a state that advances terror operations against Israel. On the day we move to defend ourselves and the UN will want to condemn us, the ambassadors standing here will understand the reality," Dannon said.

The Panamanian Ambassador Melitón Arrocha Ruíz said that he came to see firsthand the hostile activities against Israel. "We will pass on what we saw and convey how Israel is thriving, open and democratic and that we all certainly share similar rule of law values," he said.

South Sudan Ambassador Akuei Bona Malwal noted the importance of coming to see the facts on the ground: "For those of us who work in NY and hear all sorts of things, the best way is to come and see and feel exactly what is happening. We came to Israel to see the challenges and how they are being handled."

The ambassador also pointed out the absurdity of the tunnels being dug under the nose of UN peacekeepers.