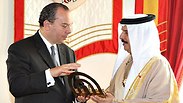 Rabbi Schneier with Bahraini King Hamad bin Isa Al Khalifa
Photo: PR
They have lived in the country under the radar for many years, but the Jews of the United Arab Emirates are now officially recognized - and their existence has been revealed - by the government for the first time.
On the occasion of the historic arrival of Pope Francis in the United Arab Emirates - the first visit by a Catholic pope to the Arabian Peninsula – the country is also publishing the book "Celebrating Tolerance," which mentions all of the UAE's religions – Muslims, Armenians, Buddhists, Copts, Hindus and Jews.
The book's preface was penned by UAE Minister of Tolerance Nahyan bin Mubarak Al Nahyan, effectively giving a government sanction to the recognition of local Judaism.
In Abu Dhabi, the Pope attended a conference promoting moderate Islam, to which 150 religious leaders from all over the world were invited.
Among the invitees was Rabbi Mark Schneier, head of the Jewish-Muslim Interfaith Foundation in the US. Schneier is a common sight in the palaces of the Persian Gulf, and serves as advisor to kings and princes of the region. He was also among the writers of the newly released book.
During the visit, Rabbi Schneier met for the first time with the Jewish community in Dubai, which has until now operated under the radar. "They meet every Shabbat in a synagogue that is located in a private house, with an ark and a Torah scroll, and they perform kiddush," said Schneier. "They have a chairman but not a rabbi. But now thanks to the official recognition, there are talks about establishing a proper synagogue, a kosher and even a mikveh (ritual bath)."
According to Schenier, there is a thriving Jewish community already in existence in the Persian Gulf.
"The community includes Jews who live here, alongside Jews who have arrived because they are involved in business and commerce in Dubai and Abu Dhabi. No one really knows how many Jews live here, and now they can have a census. I have heard numbers ranging from 150 families to 2,000-3,000 people," he said.
"This is a dynamic community with many young families, and the locals live side by side with people from South Africa, Europe and the United States," said the rabbi. "The Pope's visit not only strengthened relations between Christians and Muslims but also helped the Jews. Now it is important for them to build an infrastructure for themselves.
"Qatar, for example, knows that the World Cup will bring thousands of Jews and asked me for advice on how to prepare kosher food."