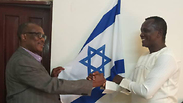 Sumah, left, at the Sierra Leone parliament with the Israeli flag
All it took was one visit for Adikalie Foday Sumah to fall in love with Israel. The Sierra Leone diplomat visited the country last year, as part of a delegation of United Nations envoys hosted by Israeli Ambassador to the UN Danny Danon, and was so impressed by what he saw that immediately afterwards founded a pro-Israel organization.

Sumah's organization, the Sierra Leone-Israel Friendship Society, works to change voting patterns against Israel at the UN and in Sierra Leone's parliament, as well as to strengthen ties between the two countries.

"When I came to Israel, I saw how much strength and ability this country has. It is a country that mixes Jews, Christians and Muslims, and God has put it above all else," Sumah said.




Israel has long accused the UN of subjecting it to unfair criticism, while ignoring violations by other nations. Former UN secretary general Ban Ki-moon admitted during his tenure that Israel has been criticized and sometimes discriminated against because of the conflict with the Palestinians.

"Decades of political maneuvering have created a disproportionate number of resolutions, reports and committees against Israel," Ban said in 2016. "In many cases, instead of helping the Palestinian issue, this reality has foiled the ability of the UN to fulfill its role effectively."

Sumah approached Sierra Leone President Julius Maada Bio, and asked him to work to promote joint projects with Israel. A letter with a similar request was also sent to Prime Minister Benjamin Netanyahu.

At a recent press conference held by the Sierra Leone-Israel Friendship Society, its members called on the Sierra Leone government to work to establish embassies in the capitals of the two countries. At the moment, Israel has an ambassador in Senegal who is entrusted with nurturing ties with Sierra Leone as well, while Sierra Leone has an honorary consul in Tel Aviv.

The Sierra Leone-Israel Friendship Society enjoys bipartisan support in the Sierra Leone parliament. "Thanks to Israel's abilities in the fields of education, technology and industry, the sky is the limit for Sierra Leone," said an official in the society.

Israel's Ambassador to the UN Danny Danon welcomed Sumah's initiative, calling it "further testimony of the ambassadorial delegations' contribution to Israel."

"The ambassadors return to the UN and to their countries with a positive view of Israel, and this receives expression in their voting patterns toward us, in the ongoing cooperation, and as we see in Sierra Leone—also in establishing local pro-Israel organizations," Danon said.