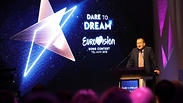 Tel Aviv Mayor Ron Huldai at Eurovision event
Photo: Reuters
An Israeli band that includes musicians with special needs has dropped out of the Eurovision Song Contest because it would force some of its observant members to perform on a Saturday, the Jewish day of rest.

The Shalva group says Wednesday it's quitting Israel's qualifying competition after the Eurovision organizers said it would make no exceptions for the Jewish state's ultimate winner. The competition is held on a Saturday night and the compulsory rehearsal falls during the hours of Shabbat.

The group will, however, perform during a semi-final that does not fall on Shabbat.

Shalva, which has several members who are blind or have Down syndrome, has become a fan favorite and serious contender to sing Israel's entry. Some critics in Israel say the Eurovision seems tolerant of all besides Orthodox Jews.

According to the Israeli media, a number of Israeli officials asked the European Broadcasting Union to relax its regulations and allow the group to perform, but due to the tight scheduling of the competition, the request was denied.

But EBU rules state that all entrants into the competition have to attend every rehearsal and every show. The dress rehearsal for the final is recorded the day before the live event, which is held on a Saturday night.

As this recording is used both to allow judges around the world to see the songs in advance and as a back-up in case of technical problems during the live event competition, it is imperative that every act is in attendance.

Last September, the EBU announced that the 2019 Eurovision would be held in Tel Aviv and not in Israel's capital Jerusalem as had been previously planned. The contest will be held in Israel as its 2018 entrant Netta Barzilai won with her song "Toy."

The decision came after months of speculation regarding the location of the annual song contest, with the government initially insisting on holding the popular event in Jerusalem. But following a backlash over the US recognition of the city as Israel's capital and a subsequent fear of boycotts it dropped the demand.

The Eurovision final is on May 18.