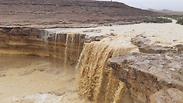 The police blocked road 40 and 90, two major highways in the Judean and Negev Deserts
Photo: Tzur Netzer, Parks Authority
Floods in the Judean and Negev Deserts

Heavy rains and thunderstorms struck Israel, mostly its south, in the early hours of Thursday, flooding desert wadis and blocking roads in the Negev and Judean deserts and in the resort city of Eilat.

The Nature and Parks Authority closed tourism sites in the south and east, among them Masada and Ein Gedi. Both sites are located in the Judean desert, which easily floods due to its loess terrain, a fine-grained sediment that quickly stops absorbing water, thus causing flooding. Power in Ein Gedi is currently down.

Significant floods have also been reported in major hiking sites in the Judean desert and the Negev—in wadis Zin, Havarim, Rahaf, Ramon and many others.

Some 18 millimeters of rain were measured overnight in Israel's most secluded desert town, Mitzpe Ramon, making up a quarter of its average annual rainfall.

Rains will weaken throughout the day, but are expected to resume across country on Friday and Saturday, with a possibility of snowfall in Mount Hermon in the Golan Heights.