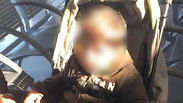 Gazan child abandoned at Israeli border
Photo: COGAT
A worrying phenomenon appears to have developed on the border with the Gaza Strip that sees parents of children taken to Israel for medical treatment abandon their offsprings in order to remain in the country as illegal residents.

According to the Coordinator of Government Activities in the Territories (COGAT), Israeli soldiers find abandoned Gazan children brought to Israel by their parents for medical treatment several times a months. This occurrence began a few months ago is not showing signs of slowing down.

As recently as two days ago, a four-year-old boy was abandoned by his father at the Erez border crossing in the northern Gaza Strip. The child, who was abandoned after receiving medical treatment in Israel, had been left with a complete stranger on the Gaza side of the border, while his father chose to remain illegally on Israeli territory.

"The parent who was supposed to accompany his child and provide him with a sense of security chose to remain in Israel as an illegal resident and send his child back to Gaza alone, without any familiar faces leading him home," COGAT said.

"This is an unacceptable phenomenon. As a father myself, I do not understand how a parent abandons his child and leaves him in the hands of a stranger without worrying about his welfare and safety," said the head of the Coordination and Liaison Administration in Gaza, Col. Iyad Sarhan.

"Those who choose to stay in Israel are violating the conditions of their entry permits. As a human being and as a father, I hope that this phenomenon will stop and the residents of Gaza will start prioritizing their children above everything else," Col. Iyad Sarhan added.