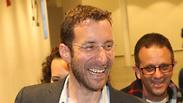 MK Itzik Shmuli
Photo: Motti Kimchi
The Labor Party elected the candidates for its Knesset list ahead of the April 9 general elections on Monday, with the leaders of the 2011 social justice protest Itzik Shmuli and Stav Shaffir taking the top spots.

The primary elections saw a particularly high voter turnout of 56.4 percent, with 33,690 of the party's registered voters casting their ballots. Because of the long lines at polling stations, the polls closed half an hour later than scheduled.

MK Itzik Shmuli, who won the primaries, will be placed in the third spot on the list—after party chairman Avi Gabbay at 1 and a spot reserved for a candidate of Gabbay's choosing at 2.

MK Stav Shaffir will be placed in the fourth spot, followed by former party chairman Shelly Yachimovich at five. Former chairman Amir Peretz received the 6th spot and MK Merav Michaeli received the 7th spot. MK Omer Bar-Lev, who was a favorite to get a top 5 spot, only got to number 8, while MK Revital Swid was placed in the 9th spot.

The tenth spot is also reserved for a candidate to be chosen by Gabbay, while the 11th spot will be filled by party secretary-general Eran Hermoni. At 12 is new candidate Yair Fink, who was Yachimovich's advisor.

"I'm very emotional, very very thankful," Shmuli said after learning the results. "Onwards. The real mission starts tomorrow morning: Taking this excellent team and running forward with it ... Run forward with no fear."

Shaffir was also happy with the results, saying that "The fact the representatives of the social justice protest are at the top of the list of the Labor Party today is something that would have been hard to imagine a few years ago—for us to have this significant power in politics."

Veteran MK Eitan Cabel, who was pushed to the 15th spot on the list after paying the political price for trying to oust chairman Gabbay, told Ynet that he has "no regrets for what I've done, and in hindsight I would have done it all the exact same way. I end this day with my head held high."

Other incumbent MKs who were pushed to lower spots on the list and are expected to find themselves out of the Knesset after the elections include Saleh Saed (number 17), Lea Fadida (number 19), Nachman Shai (number 21) and Moshe Mizrahi (number 24).

Yuval Karni, Moran Azulay, Attila Somfalvi and Shahar Hay contributed to this story.