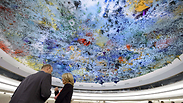 United Nations Human Rights Council
Photo: AFP
A number of prominent Israeli and international companies — among them Coca Cola and Teva — have been threatened with inclusion on a United Nations blacklist over their operations in Israeli settlements. One of the Israeli companies warned of its potential inclusion has appealed to Prime Minister Benjamin Netanyahu for government intervention.
The UN Human Rights Council says it intends to release an updated blacklist of corporations operating directly or indirectly in West Bank settlements, East Jerusalem and on the Golan Heights. Major corporations including Africa Israel, Bank Hapoalim, Bank Leumi, Bezeq and Bezeq International, Coca Cola, Africa Israel, Teva, Egged, Mekorot and Elbit Systems have been informed they could be on the new list.
Despite Israeli and American efforts to prevent it, the list is apparently set to be published at the 40th UN Human Rights Council session in Geneva in March. In 2016, the council approved a resolution to gather a blacklist of Israeli and international companies operating in the settlements. The list is updated annually.
In January, senior officials from the Hot Telecommunication Systems Ltd. received letters from the Council stating that the cable company would be included in the blacklist since it provides its services beyond the Green Line.
Hot CEO Tal Granot-Goldstein sent an urgent letter appealing to Netanyahu and Foreign Ministry Director-General Yuval Rotem in an effort to prevent Hot's inclusion on the list.
"We believe the inclusion of Israeli companies in the UN Human Rights Council's blacklist might expose those companies to legal procedures, prompting international corporations to pull out of their investments in Israel. Therefore, we request that the Israeli government and the Foreign Ministry intervene to prevent the publication of this list. Handling this matter is a national interest of the utmost importance," Granot-Goldstein wrote.
"To the best of our knowledge, additional Israeli companies have received similar warning letters. It is clear to us that by publishing its blacklist, the UN Human Rights Council aims to apply economic pressure on Israeli companies, while attempting to hurt their image and profits by shaming and threatening to expose them to legal procedures," she wrote.
Since former Chilean president Verónica Michelle Bachelet Jeria was appointed as the UN Human Rights Commissioner in 2018, efforts to produce the list have been intensified.
The UNHRC has long been accused of an anti-Israel bias, and the US ended its membership last year over this issue. Israel is the only country in the world whose rights record comes up for discussion at every council session, under "Item 7" on the agenda. Item 7 on "Israel and the Occupied Palestinian Territories" has been part of the council's regular business almost as long as it has existed.
The United States has opted to stay out of the Human Rights Council before: The George W. Bush administration opted against seeking membership when the council was created in 2006. The US only rejoined the body in 2009 under President Barack Obama.