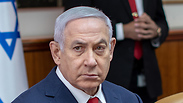 Prime Minister Netanyahu
Photo: Emil Salman
Prime Minister and Defense Minister Benjamin Netanyahu confirmed Tuesday night that Israel attacked Iranian targets in Syria on Monday.

Before leaving for an international conference in Warsaw, Netanyahu said that "We are operating every day, including yesterday, against Iran and its attempts to establish its presence in the area."

"Iran threatens us on the 40th anniversary of the revolution. They threatened to destroy Tel Aviv and Haifa, and I said that they would not succeed. But if they try, then I repeat that this will be the last anniversary of the revolution that they celebrate, this regime," he said.

"We operate very many means and very many elements against the Iranian aggression, against their attempt to arm themselves with nuclear weapons and ballistic missiles. Time and again we have exposed their terrorist actions in Europe. Time and again we have blocked their attempts to entrench in Syria, day after day," the prime minister said.

In earlier comments during a visit to the Haifa Navy Base, Netanyahu said that "the missiles that you see behind me can go very far, against any enemy, including Iran's proxies in our region."

"We are constantly working according to our understanding and the need to prevent Iran and its proxies from entrenching on our northern border and in our region in general. We are doing everything necessary," he said.

Syria's army said Monday that an Israeli Air Force drone fired four missiles near a demolished hospital in Quneitra and an army observation post in Jubata al-Khashab, also in the same area, not far from the border with Israel.

Syrian state news agency SANA quoted an army source as saying that the "Israeli enemy" also hit several sites along border villages close to a 1974 demilitarized zone on the Golan frontier that, with Russian support, the Syrian army recaptured from rebels last year.

The Syrian Observatory for Human Rights, which is affiliated with Syrian opposition, reported the attack targeted militias affiliated with the regime of President Bashar Assad. According to the report, at least four militiamen were wounded in the attack.

This is the third such attack in the same area over the past month and a half. Residents familiar with the area said that the sites targeted fall within the strategic area known as the "Triangle of Death" connecting the southern Damascus countryside with Deraa and Quneitra provinces. The area is a bastion of Iranian-backed militias led by Lebanon's Hezbollah terror group.