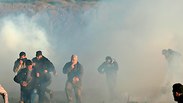 Gaza border riots
Photo: AFP
More than 15 Palestinians infiltrated into Israel from Gaza since the beginning of 2019, seeking to escape the socioeconomic distress in the coastal enclave, according to the Israel Defense Forces Southern Command.

Only a small proportion of those attempting to cross into Israel have been identified as Hamas members. The IDF said their main motive for breaching the fence was to escape their "misery" in the Strip. In order to prevent Israeli prisons from becoming too packed, some of the Palestinians were returned to the enclave after being questioned by the Shin Bet domestic security service.

Several of the detainees—most of whom are teens aged 14-17—were carrying knives and bolt cutters to ensure they end up in an Israeli prison and therefore remain in the country rather than to carry out a terror attack. The would-be infiltrators have also recently come up with a new method—gathering along the security fence in groups and waiting for Israeli soldiers to arrest them.

The latest attempts to breach the fence came with the resumption of nighttime clashes along the Gaza border, which Hamas resumed on Sunday night, months after stopping them.

For the past two months, Israel and Hamas have been sticking to an agreement to restore calm to the border. Jerusalem has allowed fuel shipments and Qatari money to enter Gaza and has increased the Strip's fishing zone. In return, Hamas has stopped firing rockets at Israel's Gaza border communities and showed restraint during the weekly "March of Return" protests.

If relative calm remains along the Gaza border, the next and main stage of the arrangement between Israel and Hamas might be implemented: establishing a seaport in Cyprus through which goods will be transferred to Gaza.

Nevertheless, the IDF's Gaza Division does not see a clear link between the humanitarian relief Israel provides Gaza and the relative quiet on the border. The unstable relationship between Hamas and the Fatah-led Palestinian Authority, along with renewed activity by the Iranian-backed Palestinian Islamic Jihad, also influence security developments on the ground.

The IDF maintains that Hamas does have control over the Gaza border protests and the level of violence used by demonstrators, which it raises or loweres in line with its daily status evaluations.