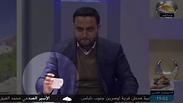 Al-Aqsa TV broadcaster reportedly signals Hamas recruits to carry out terror attacks in West Bank
Photo: Shin Bet security service
Israeli security forces say Hamas attempted to recruit would-be terrorists by sending secret messages through the Palestinian terror organization's Gaza-based broadcasting network, Al-Aqsa TV.

According to the Shin Bet domestic security service, Hamas targeted Palestinians in the West Bank as well as Arabs from East Jerusalem who were also Israeli nationals.

The group's modus operandi was to communicate with recruits through codes that were agreed upon in advance. For example, the broadcaster would place a cup of coffee on the table pr recite a line from a poem declaring loyalty to Allah in order to signal the recruit he has the green light to act. According to the Shin Bet, Hamas members reached out to four West Bank residents using this method.

The intelligence services said Israel has detained dozens of youths—among them several women— from the West Bank and East Jerusalem who were recruited and instructed by Hamas members to carry out terror over the past few years, leading the group to seek alternative ways to bring in fresh people.

"This new method from the Hamas military wing comes after a long series of attempts to carry out terror attacks by recruiting West Bank and East Jerusalem residents. These attempts have been thwarted over the past few years, resulting in the imprisonment of dozens recruits," a senior Shin Bet agent said.

Two of the Al-Aqsa broadcasters suspected of helping Hamas to convey its messages to new recruits are Islami Bader, 30, from Jabaliya and Raji Hams, 32, from Gaza City.

The Israel Defense Forces struck the Al-Aqsa studios in Gaza in November 2018.