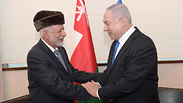 Netanyahu and the Omani FM
Photo: Amos Ben Gershom GPO
WARSAW - Prime Minister Benjamin Netanyahu met Oman's foreign minister on the sidelines of a US-sponsored Middle East conference in Warsaw on Wednesday and hinted that other Arab countries represented there were engaging with Israel.

"Many are following in your footsteps, including among those here today at the conference," a statement released by Netanyahu's office quoted him telling , whose Gulf state hosted the Israeli leader in October.

Netanyahu arrived in Poland early Wednesday to join senior officials from 60 nations at the Warsaw summit on peace and security in the Middle East, which is organized by the United States and Poland in an effort to ratchet up pressure against Iran.

"I think that holding this conference, in which Israel, the US, various countries around the world and from the region sit down in one place ... and discuss one topic—which, in my opinion, is the most important for our national security—is a very important achievement. I very much appreciate the American initiative, which I have been associated with and party to for many months," the prime minister said before boarding his flight to the Polish capital.

While in Warsaw, Netanyahu was also expected to meet with US Vice President Mike Pence and Secretary of State Mike Pompeo, as well as Polish Prime Minister Mateusz Morawiecki.

He premier is expected to give a scathing speech against Iran on the conference's first day Thursday. Pence and Polish Foreign Minister Jacek Czaputowicz were also scheduled to speak.

Iran has denounced the conference, which began Wednesday, as an American anti-Iran "circus" and Russia said it would not attend.

The absence of foreign ministers from major European powers, Germany and France, highlights festering tensions with the European Union over US President Donald Trump's decision last year to withdraw from a 2015 nuclear deal with Iran and reimpose sanctions.