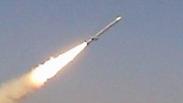 טיל בליסטי חדש איראן ניסוי שיגור
The US has resumed a secret operation to destroy Iran's missile program, the New York Times reported Thursday.

The paper cites officials in the current and previous administrations who say the program is part of "an expanding campaign by the United States to undercut Tehran's military and isolate its economy."

The report states that while US officials say it is not possible to quantify the effectiveness of the sabotage program, Iran has suffered two failed rocket launches since the start of the year. Furthermore, the paper says, Iran has a markedly high failure rate of 67 percent for orbital launches, compared to a rate of just 5 percent worldwide.

According to the White House, the Iranian space program is a smoke screen for efforts to build intercontinental ballistic missiles that are capable of delivering nuclear warheads.

The paper says it contacted several government officials past and present, who have participated in this sabotage program. They painted a picture of "a far-reaching effort" to destroy Iran's missile capabilities that began under President George W. Bush, was halted during Barack Obama's term in office and resumed under Donald Trump.

Meanwhile, Iran is striking a defiant note. Iranian President Hassan Rouhani said Monday that Tehran was determined to expand its military power and ballistic missile programme despite mounting pressure from hostile countries to curb Iran's defensive work, state TV reported.

"We have not asked and will not ask for permission to develop different types of ... missiles and will continue our path and our military power," Rouhani said in a speech at Tehran's Azadi (Freedom) square, where tens of thousands gathered to mark the 40th anniversary of Iran's Islamic revolution.

Rouhani also vowed Iran would defeat US sanctions reimposed after Trump withdrew from Tehran's nuclear accord with world powers last year.

"The Iranian people have and will have some economic difficulties (due to the sanctions) but we will overcome the problems by helping each other," Rouhani said.

The US is currently co-hosting an international conference on peace in the Middle East, dispatching US Secretary of State Mike Pompeo and Vice President Mike Pence to Warsaw where some 60 nations are in attendance.

Although it is absent from the stage, Iran is nevertheless taking the spotlight at the conference. The Islamic Republic, which is this week celebrating the 40th anniversary of its revolution, denounced the meeting as a "circus" aimed at "demonizing" it.

In an apparent test of US influence and suspicions in Europe and elsewhere over the Trump administration's intentions in Iran, many countries aren't sending their top diplomats and will be represented at levels lower than their invited foreign ministers.

Prime Minister Benjamin Netanyahu, Pompeo and Pence attended along with foreign ministers from numerous Arab nations. But France and Germany are not sending Cabinet-ranked officials, and European Union foreign policy chief Federica Mogherini has stayed away.

Russia and China aren't participating, and the Palestinians, who have called for the meeting to be boycotted, are also absent.