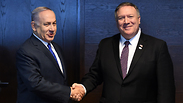 Netanyahu and Pompeo in Warsaw
Photo: AFP
WARSAW, Poland -- US Secretary of State Mike Pompeo said Thursday that the world "can't achieve peace and security in the Middle East without confronting Iran."

Pompeo spoke before the opening session of a Middle East security conference in Warsaw. Appearing next to Prime Minister Benjamin Netanyahu, Pompeo said "pushing back" against Iran is central to dealing with all the region's other problems.

Several high-profile Arab dignitaries are also attending and Netanyahu lauded their participation as signaling a shift in regional priorities.

"In a room of some 60 foreign ministers, an Israeli prime minister and the foreign ministers of leading Arab countries stood together, and spoke with unusual force, clarity and unity against a common threat of the Iranian regime," Netanyahu said before his meeting with Pompeo. "I think this marks a change, an important understanding of what threatens our future."

For Netanyahu, a longtime opponent of the 2015 Iran nuclear deal, the gathering marks a culmination of his call to unite the world against Israel's arch-enemy of Iran. He's long boasted that Israel has clandestinely developed good relations with several Arab states, despite a lack of official ties. On Wednesday, he met with Oman's foreign minister, Yusuf bin Alawi, and at Thursday's opening session he was seated next to the foreign minister of Yemen, as representatives of Kuwait, Qatar and others looked on.

The US and Poland are sponsoring the conference, which they say is aimed at promoting peace and security in the Mideast, but appears to be mainly focused on isolating Iran.

Although it is absent from the stage, Iran is nevertheless taking the spotlight at the conference. The Islamic Republic, which is this week celebrating the 40th anniversary of its revolution, denounced the meeting as a "circus" aimed at "demonizing" it.

On his way to Warsaw on Tuesday, Netanyahu made clear the conference is centered on Iran.

"It is a conference that unites the United States, Israel, many countries in the world, many countries in the region, Arab countries, against Iran's aggressive policy, its aggression, its desire to conquer the Middle East and destroy Israel," he told reporters.

Netanyahu sent out a belligerent rallying cry to his Arab partners, saying he planned to focus on the "common interest" of confronting Iran. He made the comments during an off-the-cuff interview with reporters on a Warsaw street, shortly after meeting Oman's foreign minister.

Although Netanyahu used the Hebrew word "milchama," or "war," in his comments, his office later changed its official translation and said he was referring to a "common interest of combatting Iran."

In an apparent test of US influence and suspicions in Europe and elsewhere over the Trump administration's intentions in Iran, many countries aren't sending their top diplomats and will be represented at levels lower than their invited foreign ministers.

Netanyahu, Pompeo and Pence attended along with foreign ministers from numerous Arab nations. But France and Germany are not sending Cabinet-ranked officials, and European Union foreign policy chief Federica Mogherini has stayed away.

Russia and China aren't participating, and the Palestinians, who have called for the meeting to be boycotted, are also absent.

US special envoy to the Mideast Jason Greenblatt, whose portfolio extends only to the Israeli-Palestinian peace effort, said Iran is the top priority and derided the Palestinians for their boycott and insistence that their case is the region's most important issue.

In a series of tweets on Wednesday, Greenblatt said the Palestinian position "impedes nations from countering the common enemy of Iran."

"Iran is the primary threat to the future of regional peace/security," he said. "That's what Palestinian leaders don't grasp; as a consequence of being detached from new realities, we see Palestinians increasingly left behind/more isolated than ever."