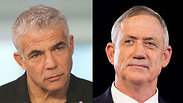 Yair Lapid and Benny Gantz
Photo: Getty images
After all the speculation, contacts, and actual formation of few genuine agreements, Sunday sees the start of the final crucial week for parties drafting their Knesset slates. Thursday night is the latest that parties can submit their final lists to the Central Elections Committee. Until then, every alliance, union, split or deal is on the table.

The most dramatic potential union on the horizon, which is also the most likely to make political waves, is between Benny Gantz's Israel Resilience party and Yair Lapid's Yesh Atid. The negotiations are strictly under wraps and, according to a source in one of the parties, "Only Gantz and Lapid know what's really going on."

The bone of contention between the two is over who will actually head the list. Senior Yesh Atid officials have been saying behind closed doors in recent days that Gantz's strategic adviser, Ronen Tzur, is trying to thwart the chances of an agreement between the two parties ahead of the upcoming elections.

"Ronen Tzur has Gantz's ear, and he does not want unity with Lapid," says a senior member of Yesh Atid. "And because Gantz listens to what people say to him, he then acts as if he does not want unity either. There are one-to-one conversations between Lapid and Gantz, but every time there's progress, (Tzur) foils it."

Yesh Atid faction chairman MK Ofer Shelah says that they have had no answer from Gantz on three key issues: whether he would join a Netanyahu government if the prime minister were indicted before a hearing; IDF draft and implementation of a core school curriculum for the ultra-Orthodox; and his political positions given his agreement with Moshe Ya'alon, granting freedom of voting on political issues. "We have had no answer on anything," says Shelah, "We are reaching out with an open mind, but if we don't get any answers, there will be no unity."

On Monday, Yair Lapid will present the Yesh Atid list. In a surprise move, he informed Knesset members Haim Jelin and Aliza Lavie that they would be given unrealistic spots on the list, casting doubt on their return to the Knesset. Furthermore, two leading lights in religious Zionism whom Lapid recently recruited — Moshe (Kinley) Tur-Paz and Tehila Friedman — were also informed that they would be placed in the fourth quintile only, in spots that polls show are also unlikely to secure them a place in parliament. The move aroused criticism mainly among circles in liberal religious Zionism, while Jelin's slight caused anger due to what it means for Israelis living close to the Gaza border and for the kibbutz sector he represents.

On Saturday, Gantz announced the recruitment of Avi Nissenkorn, chairman of the Histadrut labor federation, to the upper echelons of the party, with the promise of senior financial post. The move is likely to distance Lapid, who is not considered an enthusiastic supporter of large labor unions. Nissenkorn will not quit the Histadrut immediately, rather only after the Knesset elections.

"Gantz will be an excellent prime minister," Nissenkorn said as he announced his decision to join his party. Ganz in turn called Nissenkorn's presence "a key element in making the party into one that represents the middle class." The Israel Resilience Knesset list of will be unveiled on Tuesday, once Gantz returns from the Munich Security Conference. The negotiations between Gantz and Orly Levy-Avokasis, chairman of the Gesher (bridge) party, meanwhile, seem stuck, after she declared there was "zero" chance of a union with Israel Resilience.

In the meantime, Orly Levy has recruited Prof. Yifat Bitton, whom she calls "a trailblazing woman and a true social fighter." Bitton, a social and legal activist who was once a candidate for the Supreme Court, vowed that they would "will build a bridge of hope for the citizens of Israel."

Another possible Gantz recruit is Adina Bar-Shalom, the daughter of the late Rabbi Ovadia Yosef, who heads the Israeli Brother party. Bar-Shalom co-founded the party with former Yerucham mayor Michael Biton, who is was one of Gantz's earliest allies. The negotiations between Bar-Shalom and Gantz ongoing.

Gantz wants to join Bar-Shalom and not her party, but she prefers a party union and is waiting Gantz's final answer. Meanwhile, there is a growing assumption that another former IDF chief of staff and political partner, Gabi Ashkenazi, will remain firmly off of the political map.

There is further potential for unions and agreements on the left of the political spectrum. The initiative to bring the Labor and Meretz parties together, however, is losing steam with every passing day. Labor is satisfied with the make-up of its list as formulated during the primaries, as well as with its rise in the polls, and there is no desire to unite with Tamar Zandberg's party.

A big question mark hangs over Hatnua, the party headed by Tzipi Livni, which polls show is far from reaching the electoral threshold. It's not clear whether it could unite with another party or political personality, such as former prime minister Ehud Barak.

Livni and Barak are considered close and they talk a lot, but the chances of them uniting are low, since Barak would not bring in a significant number of Knesset seats for Livni. The center-left bloc believes that if Livni cannot pass the threshold, she would rather step aside than waste precious votes.