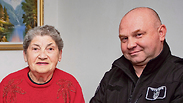 Mara Sokolovsky and Nikolay Melandovich
Photo: Gil Nachshon
It was supposed to be a cruel plan to separate an 85-year-old Holocaust survivor and her money. But surely the thief never imagined that along the way he would encounter Nikolay Melandovich, a former boxing world champion.

A few days ago, police in Upper Nazareth received a complaint from Holocaust survivor Mara Sokolovsky. According to the complaint, three young men had knocked on her door and asked for water. She went to the kitchen, and when she returned with the water she saw the young men running away. Then she noticed that her handbag, containing with money, credit card and personal documents had disappeared.

Nikolay Melandovich, 47, was a professional boxer for decades. He made his debut in the sport when he just was 7, and by the age of 35 he was considered a world class boxer. He is the three-time winner of the Ukraine lightweight boxing championships, and in 2000 he won the World Championship. Since immigrating to Israel, he has been training groups of children and young people, and also works as an inspector for Upper Nazareth municipality.

"I was on duty that night and saw a guy next to the ATM," Melandovich says. "He tried unsuccessfully to take money out several times, and I immediately went over to him. He had two other guys with him and it seemed suspicious to me.

"So I asked him what he was doing and he started to say something about wanting to take out money. Suddenly he threw down the card and I immediately called the police. I would not let him move. I knew I would keep hold of them until the police came, and within a minute they arrived. I feel that I have done something good. "

The three suspects were arrested. At first the prime suspect denied any knowledge of the robbery, but later admitted a connection to the incident and even led the policemen to a drain pipe where he had hidden his elderly victim's money and belongings.

The items were returned to a grateful Sokolovsky by Melandovich and the officer who led the arrest of the suspects, Sgt. Shaked Hiddo.

Chief Superintendent Moshe Weitzman, who heads the Upper Nazareth police force, said: "Every complaint by a helpless person - be it an elderly person or a child, and in this case an elderly Holocaust survivor - receives our quickest and most attentive treatment."

Upper Nazareth Mayor Ronen Plot praised the former world champion, who also guards the streets of his city. "When a boxing world champion chooses to work in the municipal inspection system, it provides added value to the city and makes a real contribution to the security of the citizens. Nikolay serves in an elite unit of inspectors who are dedicated and professional in their work to maintain the personal security of the city's residents 24 hours a day."

The police have recently filed a serious indictment against the main suspect at Nazareth Magistrate's Court. Wassim Daher, the deputy defense attorney in the northern district, who is responsible for representing the defendant, said in response that his client "denies the allegations against him."