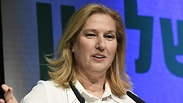 Hatnuah leader Tzipi Livni
Hatnuah leader MK Tzipi Livni announced Monday that she is quitting political life after 20 years and will not run in the April 9 elections.

Livni held a press conference Monday afternoon, officially announcing she is pulling out of the race for the 21st Knesset.

"I believe that my and Hatnuah's positions are better for the State of Israel and that justice is on our side. I have the internal force to continue fighting for what I believe in, however, I lack the political force to implement my ideology. I will never forgive myself if the votes of those who believe in me go to waste. I'm grateful to anyone who put his trust in me. I can't tell you how much you've moved me," Livni said.

"Today I apologize to you, to every woman and man who wrote, texted, phoned, hugged me on the street and told me to be strong. I'm still strong, I still believe our way is the right way for Israel, but for now, this decision (to quit) is the right one," she said.

She called on her supporters to "Keep believing in our way and demanding that politicians express their clear positions. Don't be satisfied with saying 'this is politics'—you have the power to change it."

"There will be those who will say: 'She should have quit when she was at her prime.' Today I announce that Hatnuah won't run for the 21st Knesset, knowing I've done everything I could for my beloved country and pushed for a merger of those who can fight for it. But it is no longer up to me," she said.

Livni criticized Prime Minister Benjamin Netanyahu and his government.

"Netanyahu is attacking the media, law enforcement and the judicial system. If he is not stopped, it would be the end of democracy in Israel.

"Precisely in light of the silencing attempts, including from the center, we must protect the freedom of speech of those we don't necessarily agree with, without surrendering to lies," Livni said.

"Those who share the same ideology must be united by their principles and convince others, with their head held high, in the righteousness of our way, without glancing sideways.

"One path, one bloc that creates new hope. Unfortunately that didn't happen. I find it horrible that today only the brave stick to the vision that led to the establishment of Israel, which was written in the Declaration of Independence and united all factions of Zionism, which today is being so awfully delegitimized," she said.

Concluding her speech, Livni promised that she would do everything in her power to continue helping her country.

After opinion polls showed that Hatnuah would not pass the electoral threshold, Livni sought to join forces with Yair Lapid's Yesh Atid, but Lapid reportedly decided against such a team up.

Over the past few days, the Hatnuah leader has been holding intensive negotiations with the Israel Resilience Party leader Benny Gantz, which reached a stalemate and apparently led Livni to decide to leave politics.

Last week, Livni said that despite of the unflattering polls, she would continue fighting to promote her ideology, slamming other centrist leaders who "are afraid to express their opinion."

In January, Labor Party head Avi Gabbay dropped a political bombshell on Livni, his Zionist Union co-leader, making an unscheduled announcement that he is dissolving their partnership and splitting from her Hatnuah party.

"I hoped and believed that the change and the new partnership will lead to our growth, to a real connection, to a mutual partnership," Gabbay said. "But the public is wise, and sees that this is not how things turned out. I still believe in partnership, in connections, in uniting a large camp and being committed to change, but successful connections require friendship, sticking to agreements and loyalty down the road," Gabbay said.

Moran Azulay, Yuval Karni and Shahar Hay contributed to this article.