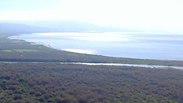 Sea of Galilee
Photo: Water Authority
The water level in the Sea of Galilee, or Kinneret, is expected to climb above the freshwater lake's lower red line for the first time in two years, at which point pumping will no longer face government restrictions.

The water level now stands at 23 centimeters below the lower red line, but is expected to pass that within a few weeks, thanks to the heavy rains and snow this winter. Since Thursday, the waterline has risen by 10.5 centimeters (4.13 inches), the Water Authority says, and by a total of 1.405 meters (4.6 feet) since the beginning of Israel's rainy season.

"Despite the heavy rainfalls that have been hitting Israel over the past few weeks, the Sea of Galilee is still 4.435 meters (174.6 inches) short of reaching its full capacity. We expect that by the beginning of March, the waterline will rise above the lower red line," said a Water Authority official.

Kinneret Authority Deputy Chairman Pinchas Green warned, however, that the lake's water levels would soon return to below the red line once the weather heats up.

"Every summer, the lake's waterline decreases by 0.5-1 cm per day due to water evaporation, which means the Kinneret will again plunge below the lower red line," he said.

"Nevertheless, by the end of winter season, the Sea of Galilee will rise above the red line. Although we are still 23 cm from reaching the lower red line, the heavy snowfall that blanketed the north of the country in January is expected to raise the water lever by dozens of centimeters, which is definitely good news," Green said.

"After the difficult year we had in 2018, the rainfall we are experiencing in 2019 will allow the Kinneret's waterline to rise above the lower red line. Only by the end of this winter season, we'll know how much the lake's water level has risen."