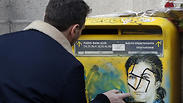 French street artist Christian Guemy cleans mailboxes vandalized with swastikas covering the face of
Demonstrations against anti-Semitism are expected to take place on Tuesday across a large number of French cities, following a wave of anti-Semitic attacks in France that have recently hijacked the yellow vest anti-government movement.

Some of the most prominent French politicians are set to participate in the events, expressing their support for the Jewish community in France, the world's largest Jewish population outside Israel and the United States.

Former president Francois Hollande, former prime minister Bernard Cazeneuve and the former Paris mayor Bertrand Delanoe are all among those announcing their plans to march, according to a report in The Local news website. Jean-Luc Mélenchon—the leader of socialist-democratic party La France Insoumise (Unbowed France)— will also attend.

France's Education Minister Jean-Michel Blanquer, chief government spokesman Benjamin Griveaux, European Affairs Minister Nathalie Loiseau are also set to demonstrate. "There is a leprosy that rises in Europe, we must fight it and we will shoot it down," said Loiseau.

Although French President Emmanuel Macron will not attend the proceedings, he will give a speech at an annual dinner organized by CRIF umbrella group of French Jewish groups on Wednesday.

According to French authorities, the total of registered anti-Semitic acts rose to 541 in 2018 from 311 in 2017, a rise of 74 percent.

Recently several unsettling incidents took place across France. Portraits of the late Simone Veil drawn on mailboxes were daubed with swastikas. A survivor of Nazi death camps and a European Parliament president who died in 2017, Veil also spearheaded abortion rights as one of France's most prominent female politicians.

In another incident, one of the founders of bagel chain Bagelstein said the word "Juden" was painted on the window of one of their restaurants, although he insisted the inscription was found before Saturday's yellow-vest demonstrations in Paris.

"Anti-Semitism is spreading like a poison, like a venom," Interior minister Christophe Castaner said last week when attending a ceremony at the memorial of Ilan Halimi, a young Jewish man who was tortured to death back in 2006. Two trees planted at the scene where he was found dying in a Paris suburb have been vandalized. "It's rotting minds, it's killing," Castaner said, vowing that the government would fight anti-Semitism.

According to sociologist Danny Trom, author of the book "France Without Jews," thousands of Jewish people leave France every year because the rise of Anti-Semitism.

"This is a low-intensity war, perhaps, but let's not forget the murder of children killed at close range by Mohamed Merah in a school," Trom told French culture magazine Telerama, referring to the murder in 2012 of three children and a teacher from a Jewish school by an Islamic extremist in the southwestern city of Toulouse.

"It is without equivalent in the history of France," he said. "Jews have been present in France since the dawn of times. Now, the pressure is such that they are led to consider their country inhospitable."

Associated Press contributed to this report.