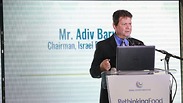 Chairman of the Israel Export Institute Adiv Baruch
The Israel Export Institute on Monday held a conference in which the most contemporary trends in the field of food-tech and agro-tech were presented.

The conference focused on the challenges the world is expected to face in the upcoming years and the solutions Israeli startup companies have to offer.

"The State of Israel has always invested in development and innovation in light of the reality we live in," Chairman of the Israel Export Institute Adiv Baruch said.

"In this day and age, we are witnessing a shortage of products, food and land. By 2050, the world's population is expected to reach over 9.5 billion people, which means food consumption will increase by 70 percent. The only way to provide this amount of food is by employing food technology methods and Israel has become a huge food lab that operates for the good of the world," Baruch said.

Representatives from all over the world attended the conference. "Guests from Latin America, Africa and the united States are taking part in this conference in Israel in order to learn and be exposed to the new solutions we are leading," Baruch said.

According to the food-tech department head at the Export Institute, Sahar Yazdanpur, "Israel is a food-tech superpower, and currently has over than 300 food-tech and agro-tech startups—from companies that provide food substitutions to companies that manufacture alternative proteins and sugar-reduced products."

Over the past 20 years, the Israel Export Institute has been the home to companies manufacturing a wide range of ingredients and local Israeli food. The institute introduced the Israeli industry to the international market by collaborating with prominent retailers, food experts and reporters from all over the world.

A Foreign Trade Administration (FTA) senior official at the Israeli Ministry of Economy, Ofer Forer, said that "The global food-tech industry—especially as far as investments and technological cooperation are concerned—is becoming increasingly important in the activity of multi-national companies."

He added that those companies—that send their representatives to Israel to scout new technologies and team up with Israeli startups—are looking for innovative solutions, which Israel, as the startup nation, can offers.

"We already have several success stories of foreign companies whose representatives came to Israel with the help of the Industry, Trade and Labor Ministry in cooperation with the Export Institute in order to examine possible collaboration in the field of food-tech and smart packaging solutions. Furthermore, Australia's Visy Industries has recently invested in an Israeli food-tech startup," Forer said.