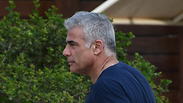 Yair Lapid arrives fdr the meeting with Benny Gantz
Israel Resilience leader Benny Gantz and Yesh Atid Chairman Yair Lapid held secret talks Wednesday afternoon at the home of Lapid associate Hillel Kobrinski in Savyon, to discuss a possible merger between the two parties ahead of the April 9 elections.
Yesh Atid faction chairman Ofer Shelah and Gantz bureau chief Maayan Israeli were also present, along with Gantz's media advisor Ronen Tzur.
The two met overnight Tuesday to discuss joining forces in an effort to present an alternative to the government of Prime Minister Benjamin Netanyahu. Sources involved in the negotiations said their talks were "good" and that the two intend to make a final effort to work together ahead of the elections.
After failing to reach an agreement with Gesher leader Orly Levy-Abekasis, the former IDF chief of staff Gantz reached out to Lapid on Tuesday evening, after presenting his party's final list of candidates for the Knesset.
"I will offer my friend Yair Lapid to put all other considerations aside and put Israel first," he said, hinting at a possible merger, which is crucial to form a wide central-left bloc.
Lapid responded to Gantz, saying that "We'll do everything that is in our power not to miss the opportunity to change the current leadership."
The question of who will lead the joint bloc appears to be the only obstacle left in the talks between Yesh Atid and Israel Resilience.
"If Lapid forgoes (his demand for) a rotation agreement, he and Gantz will join forces," according to one of Gantz's associates.
A Yesh Atid official, meanwhile, said that "We have to examine if Gantz's proposal is serious, or if he is only trying to come across as someone working to form a wide center-left bloc."
The Israel Resilience Party's final list of candidates for the 21st Knesset includes former IDF chief Moshe Ya'alon in second place, followed by Histradur labor federation leader Avi Nissenkorn, journalists Miki Haimovich and Yoaz Hendel, Yerucham Mayor Michael Biton, Chili Tropper, Zvi Hauser, Orit Farkash-Hacohen, and Merav Cohen.