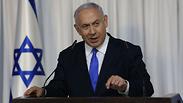 Prime Minister Benjamin Netanyahu
Israel's state committee for granting permits, which operates alongside the state comptroller's office, on Sunday rejected a request by Prime Minister Benjamin Netanyahu to fund his legal aid team through $2 million in donations by his cousin Nathan Milikowsky and by businessman and close associate Spencer Partridge. The prime minister was also ordered to pay back $300,000 (approx. 1 million shekels) in donations by Milikowsky to his legal defense fund and return suits given to him by Partridge.

Netanyahu is currently facing three corruption investigations, and claims that he is innocent in all cases.

"The attorney general determined that if the committee rejects the prime minister's request to reexamine the matter, he will be obligated to return to Mr. Milikowsky the funds he received from him, according to predetermined timetables, while presenting the state comptroller and the attorney general with satisfactory written proof (of the need for legal aid)," the committee's statement read.

"The applicant's declaration of capital shows he is a wealthy man. Hence, he is required, in line with the committee's previous decision, to prove that he has exhausted his abilities to use his own funds before turning to donations."

The committee's decision comes after State Comptroller Yosef Shapira and Attorney General Avichai Mandelblit determined in December that the prime minister was ineligible to receive $2 million in donations from Milikovsky and Partridge to fund his legal fees.

In January, Shapira issued an unusual appeal to the Permits Committee, requesting it to reconvene to hear new arguments by Netanyahu's attorney Navot Tel-Zur, as the law allows the committee to reexamine the matter in the event that "circumstances have notably changed" after a decision has been made.

"The rules of justice and administrative law require the committee to reconvene in order to allow the applicant to make his arguments, as he explicitly requested, and only thereafter reach a decision, in accordance with the law and while balancing all interests," Shapira said.

Touching on the attire Netanyahu received from Partridge, the committee stated: "It would be appropriate for the applicant to return the suits to their owner. If he has already made use of the suits and they cannot be returned, the applicant would be obligated to return the cost of the suits to their donor or to donate the money they are worth to a proper cause determined in advance."

Netanyahu's attorneys harshly criticized the committee's decision, saying: "This is an unprecedented ruling that violates (our client's) basic rights. It is unheard of for a prime minister to be prevented the basic right of legal aid, which is given to every Knesset member.

"We intend to file a petition with the High Court of Justice against this outrageous decision," the lawyers said.

Netanyahu's Likud ruling party also slammed the decision, insinuating that the decision was politically motivated.

"In aiming to establish a left government led by (Benny) Gantz and (Yair) Lapid (they) will stop at nothing, including depriving Netanyahu of his right to fund his legal defense, a basic right that is given to every MK, but now is denied to a member of the Knesset named Benjamin Netanyahu."

Netanyahu is suspected of wrongdoing in three separate cases. Case 1000 concerns allegations that the prime minister and his family received illicit gifts from wealthy donors, most notably billionaire Israeli-American film producer Arnon Milchan.

Case 2000 concerns allegations that Netanyahu held talks with Yedioth Ahronoth publisher and owner Arnon Mozes about favorable coverage in return for legislation that would weaken Yedioth's rival, free daily Israel Hayom.

Case 4000 concerns an alleged quid pro quo relationship between Netanyahu and investor Shaul Elovitch, who was the majority shareholder of Bezeq telecommunications and owner of the Walla! News site; Elovitch allegedly ensured Netanyahu and his family received favorable coverage on Walla! News in return for regulatory benefits for Bezeq, which sought to merge with satellite company Yes.