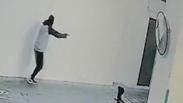 Screenshot from security footage
An execution by two masked men was caught on video in central Israel on Tuesday, as a parking lot security camera recorded the murder of a young man known to the police.
The authorities are hunting for the two men shown in the footage, who immediately fled the scene. The license plate of their getaway car was recorded by the security camera that filmed the entire incident.
In the dramatic footage, recorded in a parking lot in the central town of Ramat Gan, the 24-year-old victim appears to be making his way towards a motorcycle when a car comes into view and the two suspected gunmen emerge.
The two men quickly approach their target, and appear to open fire at him from point blank range. The two are seen shooting even when their victim falls to the ground, before fleeing in their car.
The victim was initially reported as being in critical condition, but was pronounced dead upon arrival at Beilinson Hospital in Petah Tikva.
The man was treated at the scene by personnel from the Magen David Adom rescue service.
"When we arrived at the scene, we saw a young man in the building parking lot who was bleeding from wounds to his lower body," said medic Zeev Mariasin and paramedic Yaakov Tzoref.
"We immediately began administering treatment to stop the bleeding. At this point his condition deteriorated and he was taken in critical condition to the hospital," the medics said.
The victim's name was recently mentioned in connection with an explosion several months ago in a car in the Hatikva neighborhood of Tel Aviv, although he was not arrested or questioned over the incident.
Attorney Ness Ben-Natan, who represented the victim in a legal matter, said he knew his client "had been marked," but did not specify by who.
Large numbers of police officers from the Tel Aviv and the Dan regions were searching for the perpetrators.