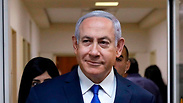 Prime Minister Benjamin Netanyahu
Photo: AFP
Attorney General Avichai Mandelblit will on Thursday release his recommendations on indictments for the corruption investigations of Prime Minister Benjamin Netanyahu, Israel's evening news programs reported Wednesday.

The prime minister is being investigated in three separate cases: Case 1000 concerns illicit gifts Netanyahu allegedly received from business moguls Arnon Milchan and James Packer.

Case 2000 concerns alleged discussions Netanyahu and Yedioth Ahronoth publisher Arnon Mozes had over a quid pro quo of positive media for the prime minister in return for Netanyahu weakening Yedioth's main rival newspaper Israel Hayom.

Case 4000 involves an alleged plan to ease regulations for telecommunications mogul and Bezeq chief Shaul Elovitch in return for positive coverage on his Walla! news website.

According to the reports, Mandelblit will recommend that Netanyahu face bribery charges in Case 4000, pending a hearing. In Case 1000, the reports said, Mandelblit will recommend charges of breach of trust.

In Case 2000, the attorney general will reportedly recommend lesser charges, most likely fraud and breach of trust. Mozes, the reports said, may face bribery charges, pending a hearing.

Netanyahu's camp said in response that, "the accusations of bribery are ridiculous. Prime Minister Netanyahu never received anything from not gave anything to Elovitch. The coverage on Walla! was negative and intensified due to the elections. Every decision regarding Bezeq was approved by the responsible regulators and the prime minister acted flawlessly, as determined by the justice ministry in an official document."

The prime minister has previously argued against recommendations being made by the attorney general in the run up to the April 9 elections, claiming it would have an adverse effect on his re-election chances.