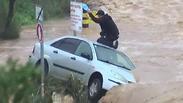 A man stratnded on the roof of his car in the Arazim Valley flood
Photo: Kan, the Israeli Public Broadcasting Corporation
It was a man on a wet tin roof: In a dramatic rescue operation, two people whose cars were swept by a flooded river near Jerusalem were saved and brought to safety Thursday.

The men were stranded after heavy rains caused the Arazim Valley near the capital to flood.

The rescue operation at Arazim Valley (באדיבות תאגיד השידור כאן)

One of the men was rescued after he was climbed the roof of his car, that was stuck in the middle of the valley and was nearly swept downstream.

Four Fire and Rescue teams took part in the operation, aided by the Israel Police and an IDF helicopter for back-up. Rescue teams are still patrolling the region in order to rule out the presence of others who might have gotten stranded by the floods.

Magen David Adom, Israel's emergency service, said one of the rescued men, aged 50, was taken for further medical assessment after he suffered hypothermia.

Ilan Gur, a paramedic who was at the scene, said the two men initially climbed onto the roofs of their cars, but one of them fell in the water. "It was a complex recovery operation," he said.

Jerusalem saw 30 millimeters of rain in less than three hours, and some 107 millimeters since the current storm system started Wednesday. Floods blocked one of the main highways in the city and some small roads in the lower regions around Jerusalem.

The heavy rains in the region also caused floods in the Judean Desert, blocking Highway 90 that crosses it from north to south.