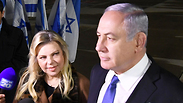 Benjamin and Sara Netanyahu
Photo: GPO
AG seeks Netanyahu indictments for bribery, fraud, breach of trust
Mandelblit recommends charges in all three investigations into the prime minister, pending a hearing, after High Court rejects Likud bid to prevent release until after April 9 elections; furious Likud denounces 'political persecution'
Attorney General Avichai Mandelblit on Thursday called for Prime Minister Netanyahu to face charges in all three of the open corruption investigations into his actitvities, hours after the High Court rejected a last-ditch attempt by the Likud party to scupper his recommendations until after the April 9 elections. The indictments recommended by Mandelblit will be subject to a hearing beforehand.
Mandelblit, who was once Netanyahu's cabinet secretary, recommended bribery, fraud and breach of trust charges in Case 4000, in which Netanyahu is suspected of receiving favorable coverage on the Walla! News website in return for regulatory benefits to telecommunications giant Bezeq, which owns the site.
The attorney general also called for charges of fraud and breach of trust in both Case 1000, in which Netanyahu and his family are suspected of receiving illicit gifts from wealthy donors, and Case 2000, in which Netanyahu allegedly tried to negotiate favorable coverage in the Yedioth Ahronoth daily (Ynetnews' sister publication) in return for promoting legislation against rival paper Israel Hayom.
In a statement released through the Justice Ministry, the attorney general said that the decision to call for charges against Netanyahu was made after "a thorough examination of the evidence gathered during the investigations" both by the police and the Israel Securities Authority, as well as taking into consideration the opinions presented by the office of State Prosecutor Shai Nitzan.
Mandelblit said that the decision to indict was not final, and a pre-indictment hearing would be arranged in coordination with the prime minister's legal team.
The Likud issued a furious statement following the release of the recommendations, accusing Mandelblit of "political persecution" of Netanyahu.
"The witch hunt against the prime minister began with an attempt to link to him four bribery cases. Even before the hearing, three of them collapsed (Case 3000 was closed and Cases 1000 and 2000 do not include bribery charges). The rest will also collapse like a house of cards as soon as the prime minister confronts the state witnesses," said the party in an official statement.
Both the party and Netanyahu claim that announcing the recommendations in the run up to the April 9 elections would seriously damage the prime minister's chances of re-election.
What are the investigations?
Case 1000
This case, which is also known as the "illicit gifts affair," concerns gifts the prime minister and his family allegedly received from American billionaire Arnon Milchan and Australian billionaire James Packer. The gifts mostly included champagne and expensive cigars.
The investigation found there was an alleged organized system, which operated for about a decade, with Netanyahu and his family demanding and then receiving gifts worth a total of some NIS 1 million.
In return for the gifts, Netanyahu allegedly used his position to influence government policy for the betterment of his associates, particularly Milchan.
Tax benefits: One such favor was the premier's invested interest in extending tax benefits for returning residents to over 10 years, something the police estimated would have saved Milchan millions of dollars. Finance Ministry officials rejected the proposal, saying it was contrary to the public interest, because fewer taxes would be collected.
US visa: Netanyahu is also suspected of working to aid Milchan renew his visa to the US. The prime minister allegedly turned to then-US Secretary of State John Kerry, then-US Ambassador to Israel Dan Shapiro and Israel's Ambassador to the US Ron Dermer, asking for their help in extending Milchan's visa.
Channel 2 merger: The prime minister allegedly worked to promote the merger of the two TV networks that shared Channel 2, Keshet and Reshet, which Milchan sought to run, in addition to owning shares in commercial competitor, Channel 10.
"Communications Ministry Director-General Shlomo Filber intervened and acted on behalf of Netanyahu in order to advance Milchan's affairs. In return, the prime minister was promised sympathetic coverage (from Channels 2 and 10)," police said.
The Tata project: According to the police, the most glaring example of Netanyahu working against Israel's interests to benefit Milchan was his efforts promote a free trade zone on the Israel-Jordan border, a project Milchan sought to promote as part of his partnership with Indian industrialist Ratan Naval Tata.
The project, which police noted went against the recommendations of the defense establishment, would have generated Milchan and Tata "a huge profit," but ended up being scrapped because it would've cost the state an unreasonable amount in security expenses.
Channel 10: Netanyahu allegedly acted in violation of the law when he handled the affairs of Channel 10, despite knowing his friend Milchan owned shares in the channel.
Case 2000
Police say that Netanyahu and Yedioth Ahronoth owner and publisher Arnon Mozes discussed mutual assistance to promote one another's interests during private meetings that began in 2009 and lasted for several years.
As part of these talks, the two allegedly discussed the possibility of Mozes helping Netanyahu secure his position as prime minister through positive and favorable coverage in Yedioth Ahronoth. In return, the prime minister would aid Mozes to promote Yedioth's financial interests by initiating and supporting moves to weaken rival newspaper Israel Hayom.
The investigation further found Netanyahu and Mozes took actual steps to promote each other's interests as part of the understandings reached between them, "or at the very least made it appear to the other they were doing so," police noted.
Among the steps Netanyahu allegedly took to aid Mozes were: his support of a bill to prevent the free distribution of newspapers, dubbed the "Israel Hayom bill" as the daily is handed out for free; his efforts to reduce Israel Hayom's distribution; and his efforts to cancel the paper's weekend edition.
In addition, Netanyahu, the minister of communications at the time, allegedly mediated between Mozes and potential buyers for Yedioth Ahronoth.
The police investigation was based on two recordings made at Netanyahu's behest and without Mozes' knowledge. The recordings document meetings between Netanyahu and Mozes at the Prime Minister's Residence in Jerusalem and were recorded by his then-chief of staff Ari Harow on his cellphone. Harow has turned state's witness.
Both Netanyahu and Mozes told that they did not truly intend to promote the matters discussed in their talks.
Case 4000
This case, which is also known as the "Walla!-Bezeq affair," is considered by police and the Israel Securities Authority as the gravest of the three cases. Two of Netanyahu's top confidants—former Communications Ministry director-general Shlomo Filber and former media advisor Nir Hefetz—have turned state's witness and are believed to have provided police with incriminating evidence.
Netanyahu is suspected of taking bribes and acting in a conflict of interest by promoting regulations worth hundreds of millions of dollars to Bezeq and its then-majority shareholder Shaul Elovitch, including Bezeq's merger with the satellite TV company Yes. In return, the prime minister allegedly demanded—both directly and indirectly—to receive favorable coverage on Walla! News, which is owned by Bezeq.
According to the police investigation, from 2012 to 2017 the prime minister and his associates "blatantly intervened" on a near-daily basis in the Walla! News site, using the connections with Elovitch and his wife Iris to influence appointments there and to promote flattering articles and pictures while quelling critical stories of the prime minister and his family.
Police also said the Elovitches influenced the content published on Walla! News in return for regulatory decisions made by Netanyahu, which benefitted Shaul Elovitch and the Bezeq company.
Elovitch and his wife Iris are also suspected of giving bribes, obstruction of justice and money laundering. In addition, Stella Handler, the former CEO of Bezeq, and Amikam Shorer, the former chief strategy and corporate development Officer at Bezeq, could also face charges.
Arnon Mozes is the publisher and owner of Yedioth Ahronoth Group, which includes Ynet and Ynetnews.